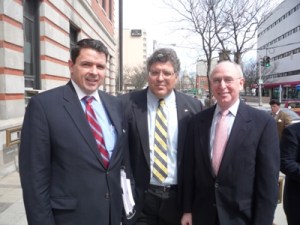 POUGHKEEPSIE—There are more than 1,200 absentee ballots in the race to replace Kirsten Gillibrand that will not be opened until next Monday, an attorney representing Democrat Scott Murphy said, when a Supreme Court judge will gather lawyers from both sides together and begin the process of sorting through them.
"We expect that number may grow to 2,000," Henry Berger, a lawyer representing Scott Murphy, said during an appearance this morning.
Both sides have been objecting to ballots on the grounds of voter residency and legitimacy, but the Republicans have objected to more of these ballots, particularly in Columbia County, where they have lodged 194 objections as of Tuesday compared to 19 by Democrats, an election official said.
The latest tally, the State Board of Elections said this morning, has Murphy leading Assemblyman Jim Tedisco by 168 votes. That does not include any votes from Saratoga County, where Tedisco is expected to gain.
There are more than enough absentee ballots to eliminate any lead resulting from the counting of uncontested ballots.
Lawyers for each side argued three issues before Judge James V. Brands this morning: whether objections to absentee ballots can be lodged based on the applications for absentee ballots, whether ballots objected to by one candidate's representative can be counted if both elections commissioners overrule the objection according to something called the "O'Keefe procedure" and whether voters with multiple residences can register to vote in a place other than their "domicile."
Brands said he would issue a written ruling on the first two issues by the end of the day.
The third issue, however, will not be decided until Tuesday or Wednesday of next week.
Berger argued that there need only be a "significant, legitimate and continuing attachment" to a house for it to be counted as a residence, citing various cases dating to 1973.
"The standard is not whether it is the primary residence, the standard is whether it is a legitimate residence," he said. "They can have a primary residence somewhere else—it doesn't matter."
James Walsh, a lawyer representing Tedisco, argued that if voters claim a primary residence for some other purpose of government—like the STAR property tax exemption or to maintain a rent-controlled apartment—they forfeit their right to "shop" residences under the precedents Berger described.
"They can't have it both ways," he said. "Whether they get that primary benefit or whether they get to influence the election."
John Ciampoli, a lawyer representing Republican State Chairman Joe Mondello, agreed with Walsh, saying an "aura of sham" is created for voters who claim government benefit at a place other than their voting residence.
"The question is, were you lying on your voter registration application or were you lying on your STAR application?" he asked.
The case was adjourned until Monday, when Brands is convening Walsh, Ciampoli and Berger to begin counting the absentee ballots that have been objected to.