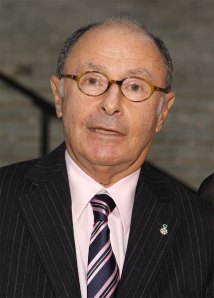 Tentpole news in Hollywood tradeland! Longtime Variety editor named vice prexy as scribblers ask, Was he ankled as replacement tapped for topline gig?
Cough.
What we meant to say was that this weekend, it was announced that Peter Bart, editor-in-chief of Variety for the last 20 years, would become vice president and editorial director of the trade publication and Tim Gray would take over the top editorial job.
Almost immediately, reporters and bloggers who share Mr. Bart's beat weighed in with a spontaneous outpouring of criticism (and just a smattering of compliments) not seen since Amy Wallace chronicled his long career as a producer and a journalist in a 2001 Los Angeles magazine cover story headlined Is This The Most Hated Man in Hollywood?
Deadline Hollywood Daily's Nikki Finke called Mr. Bart's new title "meaningless" and put out the word that "Hollywood can now safely ignore Bart." She also cited a source who claimed Mr. Bart was spotted having lunch with an executive from Nielsen Business Media, which owns Variety's closest competitor, The Hollywood Reporter, a meeting Ms. Finke described as "having lunch with The Enemy."
An un-bylined piece in The Hollywood Reporter said blandly, "Trade paper's editor-in-chief will segue into vp post."
For the sake of clarity, it should be noted that Variety recently mounted a three-part attack on Hollywood blogs in general and Ms. Finke in particular with How I got blogged down, by Michael Fleming, Tempest of the 'toldja!' journalists by Cynthia Littleton, and Hollywood's blog smog from Mr. Bart himself, all from March 22, 2009.There's really no love lost between the trade and Ms. Finke's site.
Sharon Waxman's The Wrap News went with a subtle image of Mr. Bart being yanked offstage by a cane like an old Vaudevillian who's tap-danced one number too many. In the accompanying story, Ms. Waxman wrote:
Any Hollywood executive picking up the daily trade cannot help but notice Variety's shrinking size and the lack of advertising since the Academy Awards in March, a worrying shift for the flagship publication of Reed Business Information, even in a fallow time of year.
Ms. Waxman did offer some praise, saying that Mr. Bart "is credited with professionalizing the newsroom at Variety."
David Poland, of The Hot Button, was less generous, saying in a piece headlined Another Veteran Gone, "This was inevitable, but not quite a solution. Bart was in the way of the future."
Hollywood Elsewhere's Jeffrey Wells called Variety's new editor "less prickly and more in tune with 21st Century currents," and went on to say:
To tens of thousands in the entertainment industry, Variety is a comfort blanket. It's a community gathering place, a church, an old friend, a reassurance of normality and stability. Not just an entertainment-industry Bible and paper-of-record but a kind of guidance counselor, preacher, accountant, community agent and next-door neighbor saying 'hi' over the fence.
What no one can seem to agree on is if Mr. Bart is moving "up" (New boss at Variety, Peter Bart moves upstairs, wrote Kevin Roderick of LAObserved.com), "down" (Variety editor steps down after 20 years, was the Associated Press's headline), or simply "out" (Peter Bart, 'Variety' Editor-in-Chief Pushed Out, went Danielle Berrin's 'Hollywood Jew' blog on jewishjournal.com).
Maybe it's semantics, but to some, it clearly matters.