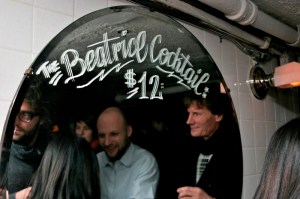 Downtown's ever popular Beatrice Inn was apparently too popular on Friday, April 3.
The city's Department of Buildings shuttered the subterranean celebrity hangout at 285 West 12th Street in the wee hours of the morning after counting 163 patrons inside the roughly 2,000-square-foot space, according to the agency's Web site.
That's 38 bodies over the legal capacity.
An inspector also noted an inadequate number of exits.
In addition to the overcrowded conditions, proprietors Matt Abramcyk and Paul Sevigny also owe some $23,000 in fines for various construction violations, city records show.
The venue has racked up four stop-work orders since October 2007.
Mr. Sevigny has told BlackBook columnist Steve Lewis to expect a "Free the Beatrice" party this coming Thursday or Friday at an undisclosed location.