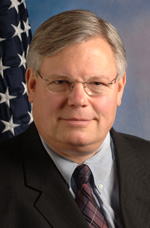 ALBANY—David Paterson's suggestion of bringing same-sex marriage to the floor of the State Senate is getting a less-than-warm reception there from proponents of same-sex marriage.
"This is what I think: This isn't Las Vegas, and I'm not willing to gamble with a new strategy on anyone's civil rights. And that's what I have to say," State Senator Tom Duane, the only openly gay member of the chamber and the bill's sponsor, said in a brief phone interview.
Paterson, on three upstate radio stations, explained that he would like to reintroduce the bill regardless of whether it can pass, to let the public here debate on what he acknowledged is a hot-button issue.
"I recognize that it does not appear that the votes are in the Senate," Paterson said this morning on WHAM. "But the reason that I want to introduce the legislation is the kind of reform that we were talking about earlier – not to turn a camera on to try to see what people are talking about when they're negotiating, but actually turning the camera on in the legislature and letting people debate issues of importance."
 "If the bill loses, then it loses," Paterson said. "I would like to like to introduce the gay marriage bill, let it stand on its own, if it loses it loses, and let the parties on both sides have their say, and inevitably, the inertia I think is that the public will accept this."
His push coincides with legislators in Vermont voting to allow same-sex marriage, the first state in the union to legislatively approve the measure. A bill doing the same in New York passed the Assembly in 2007; many advocates of the issue were hopeful that a Democratic takeover of the State Senate would mean that supporters like Duane, now in the majority, would be able to bring a bill to the floor and pass it. However, some Democratic senators remain opposed to the measure.
Austin Shafran, a spokesman for Majority Leader Malcolm Smith, sent along this statement of Smith's position:
Senator Smith has been and continues to be a supporter of marriage equality, but something of this importance demands more than a symbolic gesture or empty rhetoric. It requires the type of real action we are working towards to secure the votes necessary to achieve the goal of marriage equality. At the present time, we do not believe there are sufficient votes in the Senate to pass the marriage equality bill which was passed by the Assembly last year, but Senator Smith has said it will pass as soon as the votes can be secured and he is committed to continuing that process now.