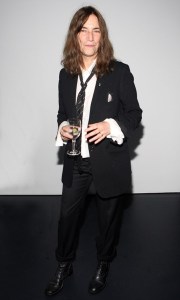 The fans who filled the Robert Miller Gallery in Chelsea on Thursday night, April 2, to hear punk icon Patti Smith perform songs and original poetry inspired by the 19th century French writer Arthur Rimbaud bowed their heads as Ms. Smith intoned the literary rebel's last words: "I am completely paralyzed, and so I wish to embark in good time."
Rimbaud, who famously quit writing poetry when he was 20 years old to become a gun runner, slave-trader and vague signifier of adolescent rebellion, had just had his gangrenous leg amputated when he spoke those words.
Not a little overcome by the solemnity of the proceedings, the Daily Transom scanned the room for signs of ubermenschlich amorality, or even just some moody teens. The closest thing we found was former Ramones manager and keeper-of-the-brand Arturo Vega, sporting a black Ramones T-shirt, which appeared to have been recently ironed.
Guitarist Lenny Kaye and former Television frontman Tom Verlaine also turned out for the churchlike performance. Afterward, congregants sipped Champagne.
Smitten by the willowy, lank Ms. Smith, the Daily Transom sidled shyly up to ask a question: "As you've grown up, how has your relationship evolved to the myth of Rimbaud, cursed poet of alienation and ecstasy?"
"I'm sorry, I've been talking all night," Ms. Smith replied. "My brain hurts."