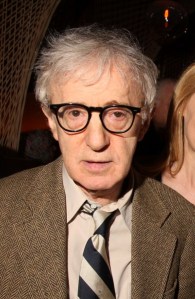 As the Tribeca Film Festival opened last night with Whatever Works, Woody Allen's new film starring comedian Larry David, the procession of talent filing into the Zeigfeld Theatre seemed to collectively decide that the safest thing to do, considering the masses of screaming passersby, overeager reporters, and elbow-grabbing publicists, was to get inside as swiftly as possible.
Playing the film's mandatory naive young girl, Evan Rachel Wood, with her deep orange hair and strapless princess-cut dress, hopped and skipped her way inside after speaking to half of the press line. She said she'd be right back; she was not.
Debra Messing teetered in, saying how much absolutely she adores—adores!—Mr. Allen's work.
An Olsen twin showed up.
Mr. David walked in on the early side, wearily looking around as the fans began to chant his name in unison.
Finally, even Mr. Allen shuffled in with Soon Yi Previn, again without too many unnecessary stops or greetings. (He did speak briefly with NY1's George Whipple.)
Robert De Niro walked in, smirking, with Grace Hightower on his arm. Ms. Hightower's expensive heel briefly got caught as it pierced a hole in the red carpet, causing Mr. De Niro to halt and examine the problem at her feet. But as soon as Ms. Hightower managed to yank her heel out, they continued on with their brisk pace.
Jane Rosenthal, the co-founder of the festival with Mr. De Niro, was one of the few arriving guests eager to express her excitement.
"The distributor called us and asked, 'Would you like to open with a Woody Allen movie?'" she said. "And we said, 'How soon can we see it and yes!'"
Then Ms. Rosenthal let slip those trite words that have been said so often regarding Mr. Allen's films that they've barely retained meaning.
"It's a quintessential Woody Allen movie," she announced. "It's his return to New York."
Ms. Rosenthal was also pleased with the pairing of Mr. Allen and Mr. David. "I think it's extraordinary," she said. "I think Woody has found a new muse! He managed to bring out the Woody in Larry."
Nearby documentarian Morgan Spurlock, one of the jurors for the festival, was equally enthusiastic.
"I love Woody Allen. I love Larry David. How would I miss this?" he told the Daily Transom. "For me, of all the Woody casts over the years, I think this is the most perfect bit of casting I have ever seen. It's just ideal. To find someone who is as eccentric and neurotic as Woody is just genius."
Mr. Spurlock said that while his experience lies more in the documentary genre, he would love a chance to work with Mr. Allen at some point.
"If he would call, I would be like, 'Where do you want me to be and what time? I can be there right now! I'm putting on my pants! Where should I go?'" he said. "Even if I was like passerby number six, I wouldn't even care."
Just as Mr. Spurlock was speaking, Harvey Keitel and wife Daphna Kastner were walking down the carpet without stopping for anyone. Until, that is, a female reporter from a curious travel website called Citybuzz blocked his path, holding her mike out, and begging with her big eyes for him to stop and perhaps say something interesting. Mr. Keitel, seeing this, began to speed up, walking directly towards the eager reporter. Then he thrust his hands forward, grabbed her face, and planted an open-mouth kiss, before walking away and not saying a word.
"Did that really just happen?" the reporter asked her camera guy.
"Yeah, and I got it on tape!" the cameraman replied.
"I would have rather gotten an interview," grumbled the reporter, before packing up her equipment and leaving.