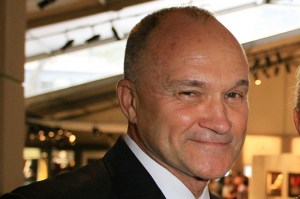 Are the city's police and crime reporters about to get evicted from 1 Police Plaza?
If Police Commissioner Ray Kelly gets his way, they will.
Mr. Kelly sent out a note to news organizations this week telling them that due to construction, media outlets will have to leave the beloved "Police Shack" at 1 Police Plaza, and there's no more space for them.
"By July 31, the Police Department must displace our Community Affairs Bureau and various news media from offices in Police Headquarters to make room for a new Joint Operations Center," a letter obtained by The Observer reads in part.
The Joint Operations Center will occupy the second floor of Police Plaza, which includes the Shack, and the former fire station right next door.
"Regrettably, we don't have space at Headquarters in the immediate future" for the Shack occupants, the letter reads. They'll have to move out by the end of July, and Mr. Kelly said that the new Police Academy, which will be partially completed in 2013, "may present" an opportunity to create space again.
"We got wind last week from police sources that this was going on," said one shack reporter. "The finality of this letter we hadn't expected."
The Times, the News, the Post, 1010 WINS and Newsday are among the dailies that field reporters to the Police Shack, a dirty, grubby, mouse-infested office that has become a journalistic legend in this town.
"I think there's an importance to talk to police officers and to be close to them and to form some relationship with them," said another reporter at the Shack. "Without that, we just have the DCPI phone number."
"We're organizing," said another. "They can claim there's no space in the building, but that might just be a bargaining tactic."