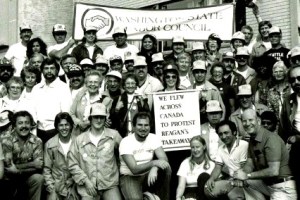 It's easy enough to ridicule Wednesday's "tea party" protests as a top-down partisan propaganda effort unconvincingly dressed up as an organic grass-roots outpouring.
And it's just as easy to mock the Republican partisans who organized and hyped the protests for their irrational hypocrisy: These are the same folks who lionize Ronald Reagan (under whom the national debt mushroomed by $2 trillion dollars) and who cheered George W. Bush through two terms of wild spending (national debt increase: $4.3 trillion), but who now scream "socialism" because Barack Obama supports a tax increase for the top 2 percent of income-earners (and a cut for 95 percent of Americans) and who wants to spend some money to stimulate the American economy—but not nearly as much as Bush spent to build Iraq's.
But put all of that aside. The appropriate reaction to Wednesday's festivities shouldn't be anger or finger-pointing, but rather a shrug and a yawn—because we've been down this road before.
Twenty-eight years ago, Reagan came to power with a popular mandate very similar to Obama's: Aided by unusual domestic and international turmoil, each used his magnetic personality to overcome initial voter doubts and, while promising transformational change, scored a resounding electoral triumph.
The public's embrace of Reagan stung the left just as badly as Americans' affection for Obama has irked the right. Very much like conservatives today, liberals in 1981 desperately looked for signs that their tormenter's rise had been a mirage—that a backlash was setting in and the world would soon be as it had been before the '80 election. They did not—could not—admit that their enemies had won and that they'd have to speak to the country's new prevailing mood.
One vehicle that the left quickly seized on to combat Reagan: the massive protest. No, liberals didn't call them tea parties in 1981, nor did they have a cable network like Fox News to amplify their message and help create the illusion of mass mobilization against the president. But they definitely reached into the same bag of tricks that Republicans are now resorting to—with self-destructive results.
It was in mid-September '81, just after Reagan's sweeping tax and spending cuts were approved, that "National Solidarity Day" attracted about 260,000 labor activists to the Mall in Washington—a crowd far larger than anyone in the media had been expecting—where they protested the new president's agenda.
Dreamed up by AFL-CIO President Lane Kirkland, the event grew out of organized labor's disdain for Reagan's policies—and its need to rebut Reagan's February boast that labor leaders were "out of step with their own rank-and-file." Reagan had won 44 percent of the vote from union households in his '80 campaign, giving rise to the "Reagan Democrat" label.
Just as Republican leaders have embraced the Tea Parties, the Democratic establishment latched on to Solidarity Day. Numerous congressmen and senators, not to mention party chairman Charles Manatt, took part, some of them addressing the crowd.
With the surprisingly high turnout, labor and its Democratic allies could argue that they'd tapped into brewing grass-roots disaffection with the president. "The winds are changing as they always do," Kirkland blustered. "The winter's chill is approaching and the bloom is fading from false mandates."
Only it wasn't. Over the next year, Reagan's popularity did steadily drop, to the point that his party lost 26 House seats in the 1982 midterms (and gained none in the Senate, even though the map strongly favored the G.O.P.). But that was entirely due to the recession that began in the fall of 1981, which yielded double-digit unemployment by the following September.
When recovery took hold in 1983 and 1984 and unemployment and inflation came down, Reagan's popularity returned to untouchable levels. All of the left's cries about his budget policies alienating the masses had been empty; Reagan was still arguing for deep spending cuts (although he'd given up on gutting Social Security) even as he won nearly 60 percent of the vote in his '84 reelection campaign. In that race, he also earned 56 percent of the blue-collar vote.
To its own detriment, the Democratic establishment had bought into the Solidarity Day rhetoric, convincing themselves that relying on the party's old playbook was the correct route back to power. The '82 midterm results only reinforced this feeling. No wonder, then, that the Democrats put up Walter Mondale, who built his candidacy around labor support, as its '84 standard-bearer.
All of this played right into Reagan's hands. After decades of Big Government, the country had warmed to his anti-government rhetoric in '80—and to his sunny disposition. They gave him staggering approval rating throughout most of '81 and, once the '81-'82 recession was out of the way, they were happy to come flocking back to him. That Reagan could point to the Democrats and say, "See, they've learned nothing!" only made the president's task easier.
Just like the Democrats of the Reagan era, today's Republicans are fooling themselves. They'd rather pretend that the same voters who handed Obama and the Democrats a mandate last year—and who gave Obama a 63-28 percent approval-disapproval rating in the latest Gallup poll—are actually on the verge of open revolt against the president's tax and spending policies (even though the public's opinion of the tax system is now at a 53-year high).
They are free to believe this. Maybe they can even point to a Tea Party crowd as big—or bigger—than the Democrats' Solidarity Day crowd back in 1981. But unless they want to play the Mondale role in the 2012 election, they'd be wise to realize that they are the ones living in fantasy land—not their opponents.