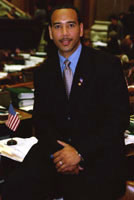 Today, it should be noted, is the special election for Bronx borough president, and Assemblyman Ruben Diaz Jr. is expected to win by a landslide.
Diaz will fill out the remainder of the term of his predecessor, Adolfo Carrion, and then almost surely run for re-election (and almost surely win if he does) this November. The race was, at one point, going to be competitive, before Diaz's major opponents decided not to enter the race.
Diaz is turning 36 this Sunday, and already has a decade of experience in Albany. And the borough presidency, barring disaster, will give him a useful springboard.
Hank Sheinkopf, a Democratic consultant who has worked with Diaz, said, "He is young, he is bright, he is a hard worker and he comes from a county where change is the fact of life at the moment."
When asked if he could be a citywide candidate in four years, Sheinkopf said "Yeah." A mayoral candidate, perhaps? "Absolutely."
Diaz has strong support in the Bronx political establishment, which owes its existence–in its current form–to his family. (He and his father, the contrarian State Senator Ruben Diaz Sr., backed a coup that put Carl Heastie in power as the county Democratic Chair.)
The history of borough presidents running for higher office is well-established. David Dinkins of Manhattan was elected mayor. His successor, C. Virginia Fields, ran for the office, too. Scott Stringer, the current Manhattan borough president, is considering a run for U.S. Senate in 2010.
Fernando Ferrer, former borough president of the Bronx, ran for mayor three times. His successor at borough hall, Carrion, was running for city comptroller before he was offered a job as Barack Obama's director of Urban Affairs.