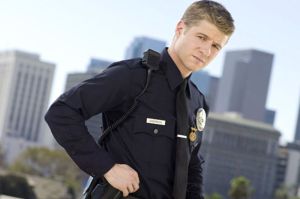 If you've seen one of the thousands of commercials that NBC has run over the last month for Southland, chances are you're expecting the new series from ER executive producer John Wells and Public Enemies co-writer Ann Biderman to be "just another cop show." Consider it our duty to report that if you watch the premiere episode tonight at 10 p.m., your expectations will most certainly be met. Though, surprisingly, that isn't a bad thing.
Part Crash, part Heat and part Training Day, Southland follows a group of Los Angeles police officers as they navigate their way through the daily grind of crimes and misdemeanors. As in Mr. Wells' pilot for ER, we enter into this world through the eyes of a newbie: Rookie Ben Sherman (The O.C.'s Ben McKenzie) spends his first day on the job paired with a seen-it-all-before veteran named John Cooper (Michael Cudlitz). Officer Cooper has his own take on things—he might be the first police officer with a God complex—and, like Officer Sherman, we're supposed to be appalled by some of his actions. Still, as the pilot moves along, we come to realize that he's just another good cop dulled by years of seeing the worst humanity has to offer.
About that worst of humanity: Southland gets dark and gritty quite often. A young boy is gunned down in broad daylight in an act of senseless violence before the first commercial break; a young girl is abducted and feared dead; and couple of hungry pit bulls eat a pretty disgusting lunch. Between the violence and the surprisingly envelope-pushing coarse language—curses are uttered at a pretty decent clip, but the treatment they receive seems arbitrary; "asshole" makes it in unedited, but "blow job" gets bleeped out—it's hard to imagine Southland airing any earlier than 10 o'clock. Of course with Jay Leno occupying that time period starting next fall, that's exactly where it will have to be slotted.
Scheduling issues aside, the big problem with Southland is that the show is too broad and diffuse. There are four other main characters in addition to Officers Cooper and Sherman—Regina King, Tom Everett Scott, Shawn Hatosy, and Kevin Alejandro play detectives who all feel culled from Central Casting—plus a host of fringe players, and none of them make an impact like the two patrolmen. Messrs. McKenzie and Cudlitz are really great together. They have an easy adversarial vibe, and their styles of acting go hand in hand; the more Mr. Cudlitz pontificates and denigrates, the more Mr. McKenzie simmers and stews.
(Mr. McKenzie is basically playing The O.C.'s Ryan Atwood again, and, as fans of that previous series, we took a perverse joy in watching him handcuff guest-star Taylor Handley, who we not-so-fondly remember as the dreaded Oliver Trask from season one.)
While nothing in Southland reinvents the wheel—it even features an NBC-approved musical montage scored with the National's "Fake Empire"—it would be errant just to write the show off completely. There is a care of craft to Southland that is rarely seen on television; with its on-location exteriors and handheld vérité camera work, the series looks and feels more like something suited for the big screen. Sure, it might be overly generic and, at times, totally contrived—the convenient interconnections of some of the cases gets fairly maddening—but when the material is handled so adeptly, does any of that really matter? You won't find yourself talking about Southland at the watercooler tomorrow morning, but that doesn't mean you won't check it out again next week.