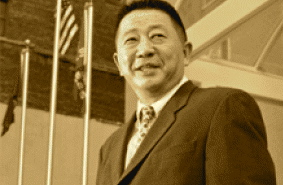 For a brief moment on Friday, Sam Chang had trouble recalling precisely where he was weaving his ever-expanding web of budget hotels.
Mr. Chang's senior moment was understandable. He is developing 16 city hotels right now — emphasis on now, during what most consider to be one of the worst recessions to hit New York in ages, hospitality industry included.

Among the ongoing projects are three hotels in Staten Island, one in the Bronx, a Hyatt Place in Downtown Brooklyn, three hotels in Queens, and eight in Manhattan, including a Hyatt Place on East 52nd Street. (Hyatt Places are essentially boutiquey versions of their namesakes.) Mr. Chang is building in the outer boroughs, despite his rather negative take on the health of their respective hotel markets. Of his Downtown Brooklyn project, Mr. Chang said: "Seriously, I don't like [the] Downtown Brooklyn [market], but we own the site, and we got all the approvals, and the construction costs are half what it costs in Manhattan."
At the moment, Mr. Chang seems driven less by the desire to make a killing, and more by a desire to keep busy, an hotelier during a recession perhaps akin to a retiree trying to remain active during his golden years.
"What do you want me to do, sit at home? I would rather move a little bit," said Mr. Chang, 48, speaking by phone on Friday afternoon.
Mr. Chang, who pioneered the expansion of moderately priced (if architecturally mundane) hotels into once peripheral neighborhoods, would certainly seem to have the means. Of the 30 hotels Mr. Chang has already built in the five boroughs, he has sold about 20 of them at mouth-watering prices. There was the Holiday Inn Manhattan Hotel, which he sold last year for $66 million, among many others.
What does the elusive Mr. Chang, whose pronouncements on the market have come to acquire a sage-like gravitas, think about the hospitality market in New York City overall? "I don't see any problem with the Manhattan hotel market — all our properties are still doing well in Manhattan," Mr. Chang said. "It's the outer boroughs where we are having a lot of problems."
"Doing well," of course, is a relative thing.
"Manhattan was not doing well in January and February, but in March it started to pick up and April, we started to see occupancy back," Mr. Chang said. "For [our hotel on] 29th street, we've been running 95 percent occupancy."
Mr. Chang has also had to lower his already moderate prices to meet the market, cutting room rates by about 20 percent.
But there is nowhere Mr. Chang would rather build, and no other type of real estate he would rather pursue. "This is what I'm good at it," Mr. Chang said. "So I'm going to stick with it."