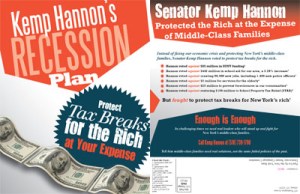 ALBANY—Here's a copy of a mailer the Democratic State Senate Campaign Committee has started sending around the state, attacking Republican senators for their votes against the state budget.
This particular mailer targets Long Island Republican Kemp Hannon because, in voting against the budget, he voted against funding for police officers, education, and the continuation of the STAR tax-exemption program.
The Republicans, throughout the budget process, attacked the lack of transparency and opposed the final product because it included tax increases on high-income earners and—though it maintained the STAR exemption—the STAR rebate was repealed.
The budget was criticized for its level of spending in an economic downturn, and a poll showed a majority of voters were dissatisfied with it. It's likely that Republicans will try to use the budget against Democratic candidates, especially those in the State Senate, where the party has a very small margin.
So the Democrats struck first with this mailer. Shams Tarek, a DSCC spokesman, said the mailer will be going out to districts around the state this week.
John McArdle, a spokesman for the Senate Republicans, said the mailer "distorts the facts."