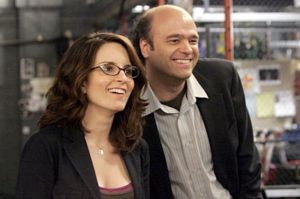 It wouldn't be Grey's Anatomy without some (more) backstage drama. Actor T.R. Knight, who threatened to quit last year because of a lack of screen time, might finally get granted safe passage off the show. Entertainment Weekly's Michael Ausiello reported yesterday that (spoiler alert!) Mr. Knight's character, George, will ship off to war and get seriously wounded in the season finale. What remains unclear is what direction the show will take with George going forward—whether he lives or dies might not be decided until the summertime, allowing Grey's Anatomy creator Shonda Rhimes to let Mr. Knight twist in the wind for being such a vocal opponent of her program. (If you need any further proof that Ms. Rhimes isn't one to be messed with, look at the "five-percent-survival-rate-cancer" that she bestowed upon Katherine Heigl's Izzie.) The funny part about all this is that if Mr. Knight does disappear from Seattle Grace hospital, he'll barely be missed. He's part of an alarming trend: series regulars who aren't actually regulars. Mr. Knight has become the poster child for this phenomenon, and we're curious to see how much longer the networks allow this kind of economic carelessness to continue. The question needs to be asked: why pay an actor a full-time salary when they only appear in half the episodes—or, in the case of Mr. Knight, 30 seconds of each episode? Here are some other actors that get erroneously filed under the moniker of "series regular."
Scott Adsit, 30 Rock
We realize Scott Adsit—Pete Hornberger on the NBC series; y'know, the bald guy—is totally BFF with Tina Fey from back in their days at Second City, but this guy is literally stealing money from NBC. Put it this way: Mr. Adsit made a guest appearance on ABC's Life on Mars, which is fine, until you realize he had more lines of dialogue in that one episode than he gets on a monthly basis over on 30 Rock. Not even the underused Jane Krakowski has time to guest star on other networks.
Chace Crawford and Taylor Momsen, Gossip Girl
During the first half of this Gossip Girl season, Chace Crawford would go episodes on end without appearing; during the second half, Taylor Momsen has gone incognito. While in recent weeks they've both gotten more to do—Mr. Crawford's Nate got back together with Blair; Ms. Momsen's Jenny had a Sweet 16 party—the show seems increasingly less interested in their misadventures. Maybe for season three they can both be put on an installment plan?
Ken Leung, Lost
Lost is the king of wasting series regulars. This season especially; thanks to plotting that could only be described as scattered, almost every actor has gotten short shrift. Even star Matthew Fox has been relatively ignored—he spent a recent episode making sandwiches and taking a shower. (Seriously.) But no one has gotten it worse than Ken Leung. Added to the cast last season, Mr. Leung—best known as the guy who befriended Uncle Junior on The Sopranos—goes weeks at a time without uttering more than a couple of caustic sentences. He's the T.R. Knight of Lost without any of the messy behind the scenes problems; if you did a shot of whiskey every time Mr. Leung's Miles spoke, you'd stay relatively sober. And while this week's episode is being billed as Miles-centric, we wouldn't get too excited. A rule of thumb for Lost: if a character that hasn't done much all of a sudden becomes the focal point of an episode, there is a good chance they aren't long for the series. Mr. Leung's status as a regular cast member might be stripped by tomorrow night.