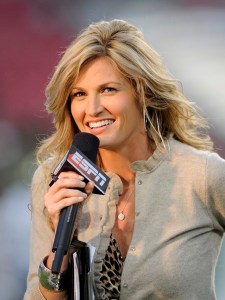 "If I were a football player, I would be a quarterback," Erin Andrews, ESPN's blond bombshell of a sideline reporter, told the Daily Transom on Friday night, April 24. "It's the most important!"
We would have guessed tight end.
Sporting a blue dress and heels, Playboy's 2009 Sexiest Sportcaster of the Year–fresh off her opening-day coverage at the New York Mets' brand-spankin' new Citi Field, where she sampled the culinary offerings of rookie stadium concessionaire Danny Meyer ("I really enjoyed the barbeque sandwich," she said)–joined former New York Giants defensive end Michael Strahan and New York Jets offensive lineman D'Brickashaw Ferguson, among a smattering of entertainers and a few football heroes of the past, present, and future, at Seth Greenberg's posh party spot Espace in far west midtown for ESPN The Magazine's sixth annual pre-NFL draft party.
The boozy event kicks off each year on the night before college football's elite performers get snatched up by NFL teams and signed to multi-million-dollar contracts. (Top pick Matt Stafford wound up taking home a whopping $72 million!)
"It's a special occasion and you have to look good," said Minnesota Vikings running back Adrian Peterson, who, dressed in all black, nearly crushed the Daily Transom's writing hand with his death-grip shake. (We can see why he never fumbles!)
Both New York teams–the Giants and Jets–had important choices to make at Saturday's draft, which weighed heavily on players' minds at the pre-party.
Brandon Jacobs, the Giants' star fifth-year running back, hoped the team would pick a wide receiver to help replace the beleaguered Plaxico Burress, whom the team recently released amid weapons charges against the one-time Super Bowl hero. (A noted party hound, Mr. Burress did not attend the ESPN shindig.)
"I like the group of receivers that we have now," the tank-like, 264-pound Mr. Jacobs diplomatically stated, "but if we can draft a receiver that could help us I hope we do that." Giants General Manager Jerry Reese must have been listening because the team selected towering University of North Carolina wide-out Hakeem Nicks.
As for the Jets, who narrowly missed the playoffs last year and have a new head coach going into the season, Darrelle Revis, the team's star defensive back, wasn't sure who he wanted his team to draft. "It's tough," he told the Daily Transom, "we need help at a lot of different positions." (The Jets ended up picking University of Southern California quarterback Marc Sanchez in the first round.)
Toward the end of the evening, the Daily Transom caught up with actor Idris Elba, who played the ruthless drug lord Stringer Bell on HBO's The Wire for five seasons. We asked him what position he thought that character would play on the gridiron. "I have no clue," the dashing 36-year-old actor replied. Turns out, Mr. Elba is a Brit, and thus more of a football (read: soccer) fan; he roots for the London-based team Arsenal.
Mr. Elba had just finished up a six-episode arc on NBC's The Office and is currently starring in the box-office blockbuster Obsessed alongside silverscreen sirens Beyoncé Knowles and Ali Larter. We wondered who Mr. Elba preferred working with, Office funnyman Steve Carell or the ubiquitous Beyoncé? "That's a tough one," Mr. Elba replied. "Steve is a funny, funny guy, but of course, Beyoncé is prettier."