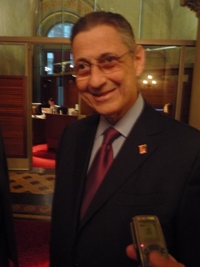 ALBANY—Assembly Speaker Sheldon Silver said he will examine the latest proposal to provide funding for the M.T.A. from Senate Majority Leader Malcolm Smith.
"We're looking at it," Silver said to reporters outside of his office. "Most important, do they have the votes? And exactly what the plan is–you can go on forever about different details of it."
By codifying a plan and advancing it, Smith may deflect further criticism of his conference's seeming inability to agree on a workable alternative to plans from David Paterson and Silver. If the bill does pass, it becomes the Senate's stated negotiating position while a final plan is worked out with the Assembly and governor.
Passing one-house bills and working out the details later has been out of vogue in Albany lately; earlier in the M.T.A. negotiations, Silver said there was no point to doing it. I asked him about that.
"I didn't know that they promised to do that [vote]. On other bills they have said they don't put bills on the floor unless they have 32 votes," he said, referencing Smith's position on same-sex marriage. "Maybe I can pass the Senate package. As you said, we need a law. We need to reverse the board's actions. We cannot live with the outrageous fare increase; we certainly can't live with the draconian service cuts."
UPDATE: Errol Cockfield, a spokesman for David Paterson, sent over this comment.
"The Governor is committed to working with the Senate and Assembly to find a solution to the MTA's funding problems.  The proposed fare increase is unacceptable and an agreement must be reached to protect the New Yorkers who depend on mass transit.  We have yet to review the details of the Senate's proposal but look forward to continuing our discussions with the Legislature."