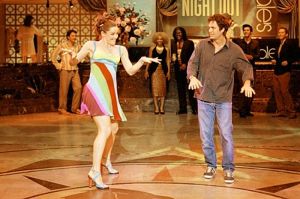 It's 2 a.m. and you awake with a jerk, alone in your fully lit apartment and still on the couch. On TV, the credits of some movie you've already seen a billion times are scrolling by. It feels like rock bottom. And we know, because we're just like you: single.
Need a movie to keep you company until you literally can't keep your eyes open? Join us tonight when we pass out to 13 Going on 30 [starting @ 10 p.m. on FX]
Why we'll try to stay up and watch it: Memo to all aspiring Hollywood screenwriters: You can never underestimate the importance of your ending. Simple advice, to be sure, but we find it hard to believe how often it's ignored. Take No Country for Old Men. The Coen brothers' Academy Award winning film is a near perfect thriller packed with great performances, set pieces and smart dialogue. But, ask anyone their opinion of it, and chances are the first thing they say is something disparaging about the ending. (This is true—try it yourself!) And no matter how great your script is, if you whiff on the finale, none of it will matter.
We bring up this seemingly obvious axiom because 13 Going on 30 is the No Country of Old Men of romantic comedies. A distaff version of Big (and the likely precursor of Samantha Who?), the film is a brightly colored confection of contagious fun that just so happens to be filled with a ton of positive girl power messages … until an ending that, as our friend so eloquently put it, causes suicidal tendencies. We won't spoil it, but a white picket fence is involved. Suffice it to say that if you're a woman who thought they could have both a career and a marriage, 13 Going on 30 begs to differ.
This is unfortunate because until the final five minutes, there are a million and one reasons why 13 Going on 30 is one of the cutest and most assured romantic comedies to come along in the last decade. Chief among them is Jennifer Garner. Mrs. Ben Affleck is warm, funny, charming and as believable as she can be while playing a 13-year-old trapped in the body of a 30-year-old; this is her Julia Roberts moment, and she doesn't drop the ball. (Though that she's now relegated to starring alongside the likes of Matthew McConaughey in Ghosts of Girlfriends Past is a bit alarming; has her career gotten to the point where she's the actress you cast when Kate Hudson is busy?) It's just that no matter how great Ms. Garner is—and how much fantastic support she has from Judy Greer and Mark Ruffalo—nothing can save the bitter taste you'll have by the time the credits roll.
When we'll probably fall asleep: Ah, but the great thing about watching 13 Going on 30 on cable is that you never have to actually make it to the ending. You can punch out long before and pretend that the movie ends the way you'd like—we do this same trick with No Country for Old Men, always turning it off after Javier Bardem walks away from his vicious car accident. So we'll call it an early night and stay with 13 Going on 30 until 10:45 p.m., 45 minutes into the film, when Ms. Garner's Jenna saves a dying party by starting a spontaneous (but perfectly choreographed) group dance-along to "Thriller." If you don't start goofily smiling during this scene, chances are you died five minutes ago.