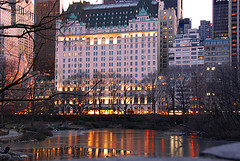 During the giddy days of the housing boom, perhaps no single word quite defined Manhattan's zooming sales market quite like "luxury." Everyone was obsessed with it and wanted to buy it; most people paid for it, even if it wasn't what they got. Those days are definitively over, with last week's first-quarter market reports unmistakably showing a screeching slowdown amid the top 10 percent of the sales market.
Real estate research site StreetEasy set the first-quarter luxury market at apartments sold at $3.15 million and up, and reported that the number of sales in that range plummeted 45.3 percent year-over-year.
There were still 143 luxury sales in the quarter, according to StreetEasy, of which 36 were condo re-sales, 19 were co-op re-sales and 88 were new-development condo sales. Luxury sales decreased in virtually every neighborhood except the Upper East Side, where 53 of the 88 new-development sales took place and 20 of the 55 re-sales took place. Although luxury re-sales declined on the year in the Upper East Side, new-development luxury sales increased there by 278.6 percent.
Overall, the re-sale market fared better than the new-development market, according to StreetEasy, with the median sales price in the co-op and condo luxury re-sale market falling 4.9 percent from the first quarter of 2008, while new-development luxury saw a spectacular year-over-year decline of 26.9 percent.
The dramatic price collapse in the new-development market is partially due to the fact that sales at high-priced addresses like The Plaza and 15 Central Park West are no longer skewing the data upward, but can also be explained by the tightening of the credit market and a widespread budget-conscious attitude shared by most consumers.
Still, the disparity between the year-to-year numbers is stark, and as much as they cap the end of the era of the luxury housing boom, they also mark the opening chapter in this sober-minded era, where fewer high-priced apartments trade hands and deals that do take place occur in familiar high-priced neighborhoods.