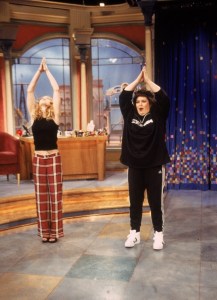 Last month, celebrity trainer Tracy Anderson was reportedly having difficulties getting people to sign up for her new $900-per-month Tribeca gym, where her most prominent client, the actress Gwyneth Paltrow, is also a partner.
(That's $900 per month, plus an initiation fee of $787.50 for six months, or $1,500 for a year!)
According to Page Six, the gym's reps were even cold-calling people and asking them to come in for a meeting.
In the meantime, Ms. Anderson, who also trains Madonna and reportedly Scarlett Johansson, seems to have come up with another way to advertise her unique workout techniques.
While her 4,700-square-foot Tribeca studio won't be open until the end of May, Ms. Anderson will teach two of her method classes at the Marriott Marquis next Sunday, April 19.
Each session—the first from 9 a.m. to 1 p.m., the second from 2 p.m. to 6 p.m.—will be followed by an hourlong question-and-answer period. And while the classes are open to the public, they are not free. Registration, available through her Web site, is $200 per session.
And which of Ms. Anderson's special techniques will be on display exactly?
"It's going to be all moves that Tracy has invented—Tracy music, Tracy cardio, and Tracy mat work," Ms. Anderson's rep, Julia Cuddihy Van Nice, told the Daily Transom. "Everything targets the accessory muscles, which is what makes it so different from everything else out there. Women end up getting tinier rather than when you go to the gym and you're hoisting 40-pound weights and you just end up getting bulkier."
"It's fun because it's not like you're running mindlessly on a treadmill," Ms. Paltrow attested to The New York Times last month of Ms. Anderson's method. "I guess she learned how to make the muscles do certain things — it actually works. It's not like you're chasing this dream."
Update: According to Ms. Cuddihy Van Nice, Ms. Anderson's publicist, the Page Six report referenced at the beginning of this article is not true. "Tracy is not cold calling anyone!" she wrote into the Daily Transom. "She never has! She has no need to! That was an absolute lie—as Tracy is actually very pleased with the response the studio has gotten about membership."