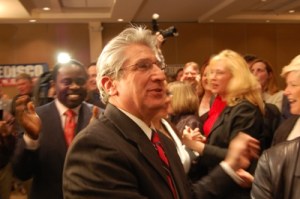 SARATOGA SPRINGS—After not sleeping in the last 40-hour campaign sprint, Assembly Minority Leader Jim Tedisco declare before a throng of campaign supporters that his campaign to succeed Kirsten Gillibrand in Congress will be decided by paper ballots.
He currently trails Murphy by 59 votes. The result cannot be fully determined before April 13.
"While we can't declare victory just yet," he said during a speech that started just before 11 p.m., "I believe that when the smoke clears, we will have won a tremendous victory."
He then thanked campaign volunteers both local and national, including R.N.C. Chairman Michael Steele and Rudy Giuliani. The speech took a turn for the emotional when Tedisco thanked his family: his wife Mary Song, his mother Beatrice, and his deceased father Nicholas and brother, Joey.
"I know you both are looking down on us right now from heaven, I know you're both smiling," he said, his speech cracking. He began to cry as the crowd grew rapt. "Waiting for the final tally."
According to the Times Union, the final tally is within 59 votes: 77,344 for Murphy and 77, 285 for Tedisco. Bill Sherman, a Tedisco aide, said that there are roughly 10,000 paper ballots cast in the district, all of which remain sealed pending a court case April 6.
Of those, 5,907 have been received by the state Board of Elections. Sherman said 798 more of those received ballots were sent by enrolled Republicans than enrolled Democrats. All ballots must be postmarked by March 30. Regular absentee ballots must be received by April 7; military ballots can be received by April 13.
"As the results are still coming in, I can tell you that this is not the end of our journey, but the beginning," Tedisco said during his speech.
Sherman said he was "confident" Tedisco would prevail.
Chris Van Hollen, chairman of the Democratic Congressional Campaign Committee said, "As votes continue to be counted, we are confident Scott Murphy will continue to expand his lead."