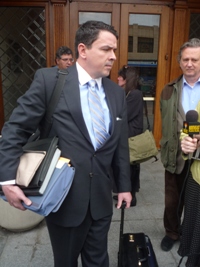 POUGHKEEPSIE—Attorneys for Republican Assemblyman James Tedisco filed two memoranda of law in the ongoing legal wrangling over absentee ballots in his Congressional race against Democrat Scott Murphy.
Tedisco's lawyers moved to "renew and reargue" a ruling issued last week by Judge James Brands that declared that objections lodged against absentee ballots on the basis of their applications were not valid.
James Walsh, an attorney representing Tedisco, argued that the case cited as the backbone of Brands' ruling dealt with a "factually distinct issue" pertaining to access to ballot applications before an election.
John Ciampoli, an attorney representing the Republican state chairman, Joe Mondello, agreed.
"The fundamental ruling in Gross is that the time to object, just as is in the statute, is at the time of the canvass. And, by the way, this is supported by Judge Phelan's decision in Jacobs v. Biamonte," he argued.
The second memorandum dealt with the issue of voter residency. In the 12-page document, Walsh argues that voters declaring a primary residence for the purpose of rent-stabilization benefits or a STAR exemption must vote there.
Henry Berger, an attorney representing Murphy, said he would not file a contrary memorandum. He replied, in court, with one sentence: "We think the courts have made clear that it need not be a primary residence, it need only be a legitimate residence."
Brands said he would examine both filings, and rule on the issue of residency later this week.
There are still about 1,500 ballots that have been objected to by one side or the other. Murphy's campaign provided a breakdown of them here (note: I haven't independently verified these numbers, but Tedisco's campaign doesn't significantly dispute the overall number), indicating that they probably break for Murphy.
Just under 200 votes were objected to on the basis of the actual ballots. These objections entail things like checking a box in the wrong field.
Lawyers from both sides agreed to meet Thursday at the State Board of Elections in Albany to being counting these ballots.
The attorneys also agreed that starting tomorrow, they will begin reviewing objections in Saratoga and Warren counties that were not adjudicated by the commissioners. The same process will take place in Washington County on Wednesday.
The latest tally in the race has Murphy ahead by 273. Walsh was asked if Tedisco was going to continue his legal challenges.
"My client has instructed me that he wants every valid ballot counted," Walsh said. "To make a declaration or determination one way or another is very premature."