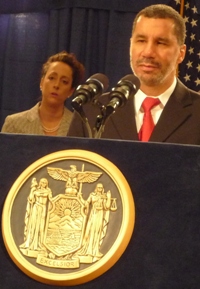 ALBANY—David Paterson's budget director will depart in July, the Paterson administration just made official.
Laura Anglin, an appointee of Eliot Spitzer who served as the point-person during budget negotiations, will leave to take a job as president of the Coalition of Commission on Independent Colleges and Universities. She replaces Abe Lackman, previously the finance director for Senator Joseph Bruno.
"Laura Anglin is a consummate professional and true public servant who has been an invaluable adviser to me and my administration during a time of extraordinary fiscal upheaval," Paterson said in a statement. "Her sage advice and fiscal acumen have helped guide the State through uncharted waters. I am grateful for her important work and wish her the best in her future endeavors."
Anglin was regarded as very technocratic, and not necessarily political. This was the case with many Spitzer appointees, an increasing number of whom have left Paterson's administration in the last year.
Labor Commissioner Patricia Smith will be taking a job in the federal Labor Department, and transportation commissioner Astrid Glynn will step down to be with family. There are reports that Judith Enck, Paterson's deputy secretary for the environment, is under consideration for a job at the EPA, and there are rumblings that Peter Kiernan, the governor's counsel, may also leave.
Anglin's replacement was not immediately named.