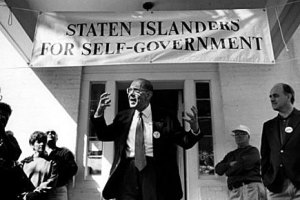 He had been elected to the State Senate before most of his constituents were born, but on a campaign night on Staten Island several years ago, John J. Marchi was making the rounds dutifully at a local political function, taking nothing for granted even though he hadn't faced a serious challenge in a quarter-century.
An old acquaintance of mine saw him standing by himself, looking very much like the 80-something he was. He was bent forward, what little hair he had left was gray, and he seemed a little too thin. If my friend was hesitant about approaching him, it was with good reason. John Marchi was not a classic, outgoing politician. He seemed too thoughtful, too reserved, and, in his later years, too frail. You didn't want to bother him.
But my friend said hello, and went on to praise the senator's recent speech against human cloning. My friend wasn't quite sure if Marchi was following him. Finally, he wished the senator well, and once again praised him effusively for his stand against cloning. The senator shook his hand.
"Thanks," he said. "When I see the senator, I'll let him know."
John Marchi, he of high principles and understated wit, died over the weekend at the age of 87. He surely was no man's clone—there was nobody quite like him in New York state politics. He was elected to the State Senate in 1956 and returned to Albany every other year until his retirement in 2006. While he was known most recently as the leader of Staten Island's madcap secession movement, John Marchi was a serious student of government, Albany's answer to Daniel Patrick Moynihan. He chaired the State Senate Finance Committee for two decades, and used the position to assist New York City during the dark years of the fiscal crisis and the fat years of the 1980s and '90s. As years passed, he rarely captured the attention of the press, but a succession of mayors knew that John Marchi was a man to see on issues ranging from education reform to public transportation to the arts and culture.
Those of us of a certain age remember that John Marchi emerged from the most outer of the outer boroughs in 1969 to defeat the darling of Manhattan liberals, John V. Lindsay, in a Republican mayoral primary. It was a shocking feat, the first of many to be inflicted on the old Republican establishment in the coming years. James Buckley, running as a Conservative, won a U.S. Senate seat the following year, and Alfonse D'Amato completed the rout in 1980 when he took out the venerable Jacob Javits in a Republican primary.
Marchi's victory—like Buckley's and D'Amato's—was credited to (or blamed on) blue-collar white ethnics (meaning Catholics and Jews) who resented the demands of blacks. The New York Times and other outlets lumped Marchi together with that year's Democratic mayoral candidate, Mario Procaccino, who certainly did stoke the flames of backlash. Marchi shared only Procaccino's Italian ancestry, but that was reason enough for Manhattan media elites to consider them to be cut from the same cloth. Marchi ran against Lindsay because he was offended by Lindsay's spending sprees, incompetence and contempt for the city's middle class. His victory in 1969 was an underappreciated milestone in New York's political history. Of course, he and Procaccino went on to lose the general election to Lindsay, who ran on the Liberal Party line. But it is fair to say that New York liberalism has not been the same since John Marchi exposed its nasty little hypocrisies.
Later on in life, Marchi won the respect of former foes, if only for his stubborn longevity and unquestionable personal integrity. By then, though, his finest moments had long been a matter of record. John Marchi risked his career twice in the mid-1970s, and to Staten Island's eternal credit, he managed to prevail despite the well-financed opposition of political demagogues on his right. In the first instance, Marchi sponsored a study of future development on the heavily wooded South Shore of Staten Island, where I lived. He eventually supported a proposal by the Rouse Company to build planned communities, with the supporting infrastructure of roads, schools and sewers, on thousands of acres. The plan anticipated that Brooklyn residents looking to move to the suburbs might be lured to Staten Island—within city limits—rather than to Long Island. It made sense, Marchi argued, to plan this development in a rational way.
Real estate interests were appalled, and the man who had been tarred as the voice of white reaction in 1969 was, in 1972, denounced as a real, live communist. He faced a brutal re-election campaign that year against one of the borough's biggest real-estate agents, but he prevailed. The plan he supported, however, failed, and the result is apparent in my old home town. Builders got rich putting up junk in the 1980s and '90s, and the South Shore of Staten Island today is a hodge-podge of barracks-style townhomes and McMansions occupied by people who seemed obsessed with security cameras. The streets flood when it rains, there aren't enough classrooms, and traffic backs up for miles along narrow, two-lane roads built in the 1920s.
In 1978, a year after Ed Koch won the mayoralty based in part on his opposition to the death penalty, Democrats tried to oust Marchi on the same issue. Marchi refused to back down, and nearly lost again. But it was the last time he faced serious opposition, and the man he defeated that year, Robert Gigante, went on to become one of Marchi's many admirers.
It was during one of those bitter re-election battles in the 1970s that Marchi found himself under a grammatically challenged and socially inept assault from a would-be opponent, who crossed paths with him at a non-political function. Bemused, Marchi turned to an aide just in from Albany and said, "Let me introduce you to the quality of the opposition."
The John Marchi of recent years was a little slower of step, a little harder to follow, than the Marchi of the 1970s. But he remained the sort of politician who reminded you that there really is something called public service, and it can be an honorable business.
If only he had let us clone him. But then again, if he did, he wouldn't have been John Marchi.