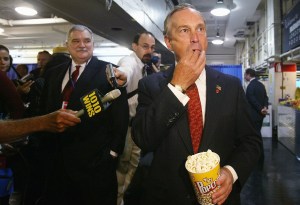 Michael Bloomberg is planning to run for reelection as the candidate of the Republican Party, and of the Independence Party.
He is also running, for all intents and purposes, as the candidate of the Democratic Party.
Take the mayor's apparently successful pre-election quest for the favor of Barack Obama.
In recent days and weeks, he has defended embattled Treasury Secretary Tim Geithner on Meet the Press, lambasted critics wishing failure on the president, enthusiastically endorsed the president's health care plan, featured a special video message from Obama adviser Valerie Jarrett at an event on volunteerism and finally, on April 21, pay dirt: He attended the president's signing of the Edward M. Kennedy Serve America Act, at which Mr. Obama introduced him as "the outstanding mayor of New York."
According to one senior Bloomberg campaign official, speaking on background, the campaign is "hoping that the substantive interactions on policy impact the White House's thinking down the road on politics."
One wonders at this point what other political favors the White House could bestow upon the independent-registered Mr. Bloomberg. The "outstanding" comment may have been a ceremonial flourish, but the words—and more important, the imagery—will be particularly unhelpful to Bill Thompson, the well-intentioned and badly overmatched city comptroller who, barring unforeseen circumstances, is going to be the person on Election Day who actually occupies the "Democratic Party" space on the ballot.
But for the Bloomberg campaign—which has virtually unlimited resources at its disposal and has hired so many accomplished consultants and operatives that idleness might be a real problem—the unofficial endorsement from an exceedingly popular Democratic president was merely part of a plan to run him as a progressive champion for, if not of, the city's dominant party.
"He's trying to win by smothering everybody else and taking everything on the table," said Democratic Councilman Vincent Gentile, with an air of resignation. "And that's the way he plays."
The Obama event followed close on the heels of an official endorsement on April 17 of Mr. Bloomberg from the iconic Newark mayor, Cory Booker, who said, "If you have to look towards a leader in mayors, you have to look to Michael Bloomberg." That event was preceded by an if-you-must roll-out of support from a misleadingly named group of unknowns called New Era Democrats, which consists largely of old people from Brooklyn who tend to endorse Republicans. And that event was preceded by the mayor's appearance at an environmental development event with Bill Clinton, who showered praise on Bloomberg as a campaign videographer carefully recorded the whole thing for future use.
There will be lots more in this vein.
According to the campaign, the coming month will be punctuated by crushingly regular announcements of endorsements representing an array of once reliably Democratic constituencies: unions; black, Latino and Jewish clergy; black and Latino elected officials; progressive civic groups.
The goal is to realign the Democratic establishment in the mayor's favor and mitigate—obliterate, really—the significance of the obligatory, half-hearted endorsements of Mr. Thompson to come, late and unenthusiastically, from Chuck Schumer and Kirsten Gillibrand and David Paterson.
"We work everybody," said the senior campaign official.
THERE IS A pattern here, as the manifestation of support for Mr. Bloomberg from Democratic officials follows the wholesale co-optation by the mayor of the bulk of the city's Democratic political talent, helped by the lure of handsome salaries and garish bonuses after the mission is accomplished.
Yes, in the 2005 race, Mr. Bloomberg had already brought some Democrats into his vast campaign army, including Deputy Mayor Kevin Sheekey, a former aide to Pat Moynihan; former City Hall spokesman Bill Cunningham, a former aide to Mario Cuomo; Schumer alumnus Josh Isay; Clinton pollster Doug Schoen; and the mayor's spokesman Stu Loeser, a veteran opposition researcher who worked for Al Gore.
But back then they were the outliers, working for a Republican mayor with an unlimited campaign budget, and they caught flak for it. As the mayor begins campaigning for a third term as a registered independent who is nevertheless running on the Republican line, his campaign has been essentially kosherized for Democrats by operatives and policy wonks who have never strayed far from the left.
First among them is his communications strategist, Howard Wolfson, who repeatedly called Mr. Bloomberg an "out-of-touch billionaire" when he worked for the state Democratic Party and who helped run Hillary Clinton's presidential campaign. But there is also Bradley Tusk, who, like Mr. Wolfson, cut his teeth with Mr. Schumer before serving as former governor Rod Blagojevich's deputy in Illinois. In February, the Bloomberg campaign hired Andrea Batista Schlesinger, the executive director of the Drum Major Institute—a public policy group with deep ties to the civil rights movement—and a former adviser to Fernando Ferrer, who ran against Mr. Bloomberg in 2005.
The campaign's field director is Maura Keaney, who worked as Christine Quinn's deputy chief of staff and is a key member of the labor group Unite Here, and its African-American liaison is Basil Smikle, a seasoned consultant who was hired away from Anthony Weiner. Karen Persichilli Keogh, a campaign adviser, is a confidante of and former aide to Mrs. Clinton, and Hank Sheinkopf, another adviser, is a Democratic strategist who was, until recently, an ally of Bill Thompson.
The Thompson campaign's spokesperson is Anne Fenton, who previously worked for the Bronx Borough President Adolfo Carrión. His campaign's political director, L. Joy Mitchell, worked most recently as deputy director of community relations in the comptroller's office.
Bill Cunningham, a lifelong Democrat who worked as Bloomberg's communications director in the 2005 race, put himself in the shoes of a prominent city Democrat to explain why the eventual Democratic challenger could expect such thin support. 
"'Why should I beat my head against the stone wall knowing that I'm not going to dislodge this guy because the public likes what he's doing, and I have to work with him,'" said Mr. Cunningham. "If I'm a councilman, an assemblyman or an active Democrat, I have to work with this guy.'"
THE THOMPSON CAMPAIGN is saying what it needs to say.
"Working families are going to  look beyond the headline grabbing price tag of a campaign and chose their next mayor based on who can lead the city through these challenging times," Ms. Fenton, the spokesperson, wrote in an email. "Bill Thompson is the Democratic choice for change and our support will keep growing from now until Election Day."
Few other party loyalists are as optimistic.
Mr. Gentile, a Thompson supporter, referred to the Bloomberg campaign's efforts this way: "He's creating a situation where there's nothing left for Democrats."
AFTER THE April 17 event, Mr. Booker told the Observer—with the Bloomberg campaign videographer readying his camera—that he felt that there was a "powerful wave" of New York Democrats coming in the future that would embrace mayoral control, charter schools and other programs that entrenched interest groups in the city were resisting.
Asked why that wave was failing to materialize in time for this mayoral cycle, Mr. Booker responded, "I don't know," and said, "Thompson should be running on his issues and his ideas. I imagine that is what he is going to do, but I do not think it is about wrapping yourself in the Democratic flag."
Two days later, the Rev. Wenton Fyne was welcoming Mr. Bloomberg in front of his 85-year-old Beulah Church of the Nazarene in Crown Heights, near corner bodegas and hair salons.
"We may not be in agreement on every issue," Mr. Fyne allowed, before enthusiastically endorsing the mayor.
Mr. Bloomberg, wearing tasseled loafers among children holding green, red and black "African Americans for Bloomberg" signs, spoke about his visits to Haiti and the importance of improving city education and boasted the "broadest campaign coalition any city has ever had."
"I can't do this without help from everyone," he said, without smiling.