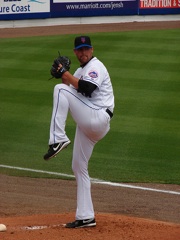 Mike Pelfrey's 2009 season did not start well. Yesterday, in the first inning of his first start of the season, the 25-year-old pitcher faced nine Reds hitters and gave up four runs, thanks to two walks, two extra-base hits and an untimely error charged to shortstop Jose Reyes. Struggling with his command, Pelfrey danced around trouble the rest of the night, and departed after five innings without giving up another run. He picked up the win—the game finished 9-7—but if the Mets hope to reverse two years of heartbreaking failure and actually make the playoffs in 2009, they'll need more from their designated number-two starter.
Yes, the Mets have Johan Santana, the best pitcher in baseball, anchoring their staff. But behind the two-time Cy Young winner, the Mets' rotation is shaky. Backing up Santana and Pelfrey are three gifted-but-unreliable pitchers: Oliver Perez, who looked like a particularly errant batting-practice pitcher in his last preseason start, against the Red Sox; John Maine, who is coming off an injury-shortened 2008 season; and Livan Hernandez, 34 years old and one year removed from a season in which he had a 6.05 earned run average. After Mets general manager Omar Minaya devoted most of the off-season to restructuring the Mets dismal bullpen, the rotation could end up being the thing that lets the Mets down.
In other words, if the Mets want to make the playoffs, Mike Pelfrey has to pitch like Jerry Koosman, who complimented staff ace Tom Seaver in the late 1960s and early 1970s. In the nine seasons between 1968 and 1976, Jerry Koosman was one of the best pitchers in baseball, averaging slightly over 14 wins per season and helping the Mets reach the playoffs twice. Koosman won two games in the 1969 World Series, pitching 8 and 2/3 innings of one-run baseball in Game 2 and closing out the series in Game 5 with a five-hit, three-run complete game. He wasn't Tom Seaver, but the Amazin' Mets wouldn't have been so amazing without the workmanlike pitching from Koosman.
Mike Pelfrey stands 6 feet 7 inches tall and has one of the best sinking fastballs in the majors. Mixing in a decent changeup and an average curveball, Pelfrey doesn't dominate games, but he is efficient when he is pitching well, forces a lot of groundball outs with his sinker and can pitch late into games. Unlike the other pitchers in the rotation, Pelfrey is an original Met, having been drafted in the first round by the Mets in the 2005 draft. Formerly a top prospect, he seemed to put it all together last year after struggling in limited major league appearances in 2006 and 2007.
In 2008, Pelfrey's first full season in the majors, he went 13-11 with a 3.72 ERA in 200.2 innings. Those are fine numbers for a young pitcher, but he effectively pitched two different seasons last year.
From Opening Day to June 16th, Pelfrey started 13 games and had 3 wins, 6 losses and an era of 4.62. On Monday, June 16th, Pelfrey pitched poorly in the series opener against the Anaheim Angels, giving up six earned runs in six innings. He still managed to pick up the win, although he did not deserve it, and the Mets improved to 34-35 on the season. It was Willie Randolph's last game as the Mets' manager. Later that night, Randolph and pitching coach Rick Peterson were fired and replaced by Jerry Manuel and Dan Warthen, respectively.
Coincidence or not, both the Mets and Pelfrey thrived under the new leadership.
From June 16th on, the Mets went 55-38, although the season ended with Mets missing the playoffs on the last day of the season for the second year in a row. In that span Pelfrey pitched like a true number-two starter and did all he could to get the Mets into the postseason. In 19 starts after the Anaheim game, Pelfrey went 11-5 with a 3.35 earned run average, and pitched into the seventh inning in 12 of his starts. Immediately following the coup, Pelfrey pitched seven games without a loss and later, in August, pitched back-to-back complete games.
Whether it was getting rid of his mouthguard, or ditching his slider in favor of his curveball, or just a chemistry issue, Pelfrey pitched much, much better with Warthen as his pitching coach.
Now, the Mets are hoping he can reproduce his second-half form over the course of a full season, even though his workload jumped 48 innings from 2007 to 2008. Pelfrey had mixed results in spring training. In his final preseason tune up, he got shelled, giving up six runs in just 4 and 2/3 innings.
If the Mets are to make the playoffs for the first time since 2006, Pelfrey has to deliver. Around 200 innings, with an ERA around 3.50 and 14 wins should do it. He needs to be a great number-two starter. He needs to pitch a lot better than he pitched on Wednesday night.