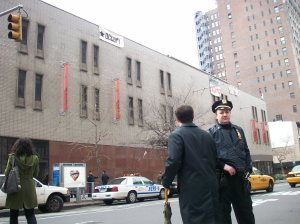 From a voice-mail message left at 6:16 on the morning of Good Friday: "Hey, we spoke before. Just wanted to call and give you a tip. The New School building is occupied right now. It's on the corner of 14th Street and Fifth Avenue. Just get out here and call anyone you know from the press."
At 10:15 a.m., a handful of students—including at least one of the N.Y.U. students who helped lead the takeover of a student center on Washington Square Park in February—were standing at the corner of 14th Street and Fifth Avenue, as close as they could get to 65 Fifth Avenue, the New School building which students from an organization called The New School in Exile had entered at the crack of dawn. Police had already shut down Fifth Avenue, between 13th and 14th streets, and they soon expanded the cordoned-off area south to 12th Street, and east-west to encompass a block and a half of 13th Street, and two blocks of University Place. Dozens of cop cars streamed to the scene. There were fire officials and police trucks, presumably on hand to cart off offending students.
A 25-year-old politics graduate student in a blue plaid jacket and brown knit hat had been standing outside for hours. She declined to give even her first name (too readily identifiable, she said), but she was eager to tick off the ways in which she believed New School President Bob Kerrey had damaged the institution of higher learning.
"There isn't a library," she said. "Did you know that?"
"He increased his salary, and decreased student amenities. … We pay $30,000 a year and have the poorest paid TAs and RAs." The list went on to include complaints about the lack of transparency of the budget, and his tarnishing of the school's reputation for radicalism. Presumably also on the list of complaints is Kerrey's refusal to step down after the senior faculty's vote of no confidence in December, which precipitated a similar sit-in.
Two blocks south, at 12th Street, a number of onlookers were gawking at the battalion's worth of men in blue.
"I like it when students take action," said Virginia Giordano, a middle-aged artist and onetime student activist who lives nearby on Fifth Avenue. "I'm not even sure of the issues, but it's not important."
"There was lots of activism in the '60s, but then it sort of died down," she said. "Now it seems to be back."
"It reminds me of the '60s, the students rebelling against administrative policies," said Benjamin J. Phillips, a former City College student activist, who was clutching a coffee cup in one hand and a neon orange flag in another, waving cars into Brevoort Garage on University Place. "But maybe this isn't the best way."
He said he was more partial to peaceful protest and negotiations.
One block north, at 13th Street, Michael Jacobs, in black fedora, sunglasses and argyle sweater, was chomping on a cigar. Mr. Jacobs, a former student activist at Virginia State University in the 1960s, called the protestors "a lot of spoiled kids trying to make a point."
Back on the corner of 14th and Fifth, the number of students had grown to dozens. Rumors of the police unleashing tear gas inside the building coursed through the crowd.
"Curse them! Curse them! How are you going to go home to your loved ones at night?" yelled one man. "Shame on you! Shame on you! Shame on you!"
"How about, fuck you!" yelled a woman behind him. "Fuck you! Fuck you! Fuck you! From New York to Greece, fuck the police!"
Nearby, a young man was handing out a flyer called "April Fools Occupation FAQS." The flier claimed 60 students had barricaded themselves inside. "This is an occupation without a list of demands, besides the obvious. Kerrey and [Executive Vice President and Chief Operating Officer James] Murtha need to go. After that a new system needs to be set that accounts for student authority over how our money is spent and how our school is operated. As of now we have been systematically eliminated from that process. Sick of not having a library? Sick of high tuition? No space to do your work? Are there a hundred things you're pissed about? Look at what we won at the last occupation. This time we're going all-in."
At 12:46 this afternoon, Detective Madelyne Galindo of the NYPD confirmed that all 19 students in the building had been arrested. "Everything is over and done with," she said. The students will likely be charged with criminal trespass. She said the rumors of tear gas were "not true."
Caroline Oyama, a spokeswoman for The New School, released the following statement:
On December 15, 2008, an unofficial student organization calling themselves the New School in Exile occupied the cafeteria at 65 Fifth Avenue, barricaded themselves into the room, and issued a set of demands. Early on the morning of December 16, a group of students and non-students broke through a fire exit on 14th street and entered the building.

Although the occupants had violated a number of important security rules, the university made the judgment they were neither an operational or a security risk. Accordingly, we did not file a complaint with the New York Police Department to have the occupants removed. Instead we entered into a process of negotiations with our students and reached agreement on a list of demands including amnesty for all involved early on the morning of December 17. The students left peacefully at that time.

In January, this same unofficial student organization issued a public threat to forcefully shut down the university on April 1 unless the President and Chief Operating Officer were removed. Following this they were caught stealing an entire edition of the student newspaper on account of a story they regarded as unfavorable to them; and subsequently they vandalized the university's presidential residence.

During this time the university has allowed and accommodated every peaceful protest, teach-in, and demonstration. We have enforced our rules governing such events in such a way as to permit protests, so long as they don't endanger the safety of other members of the community or destruction of property.

This morning's illegal occupation of 65 Fifth Avenue was joined by a number of New School in Exile students as well as individuals without any affiliation to The New School. Their claim that this was a simple political protest is false. Their entry into this building was forced, they removed a man who was cleaning the building, took his phone, injured a security officer, and did physical damage to the building.

Accordingly, in this case the university asked the New York Police Department to remove and arrest those who were trespassing on our property. We suspended, pending administrative review, all New School students who were a part of this action.

The New School prides itself on civic engagement. We have been and will continue to be a refuge for open and critical political debate. Students and faculty who choose to peacefully and passionately oppose the policies of the university will have their rights to do so protected as strongly as we protect our right to safely and securely operate our university.