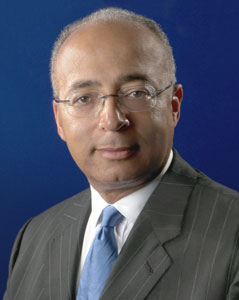 Speaking in Manhattan last night, City Comptroller and mayoral candidate Bill Thompson said that he's already defeated one well-funded opponent in a citywide race, and that he will again.
Standing in front of a room full of Democrats on the Lower East Side, Thompson portrayed Michael Bloomberg as an out-of-touch defender of the rich.
"New Yorkers need somebody to stand up and fight for them," said Thompson. "Mike Bloomberg's fighting for a few people—those billionaires and millionaires. New Yorkers, middle- and working-class New Yorkers, need somebody to stand up and fight for them. And that's why I decided to run."
"How do you beat somebody who is going to spend a hundred million dollars, or whatever it takes?" Thompson asked.
"With people coming together," he answered.
He reminded the audience of Barack Obama's triumph in the presidential election. On Election Day, he said, "we saw the greatest turnout of people across this nation. People came together to change the direction of this county." He punched his right fist into his left hand for dramatic effect.
"I believe in New York City, we can do the same thing," he said.
Thompson was speaking at a meeting of the Downtown Independent Democrats, held in the basement of a housing complex on East Fourth Street. The reception was polite and most of attendees seemed receptive to his pitch. As he spoke, a number of aides held campaign literature and blue posters that said things like "Bill Thompson, Democrat for Mayor."
Thompson said he has a record of defying long odds.
Referring to his 2001 campaign for comptroller against then-City Council finance chairman Herb Berman, Thompson said, "Real estate interests, Wall Street, you name it—they supported him. I was outspent by more than two-to-one, and many members of the press didn't think I had a chance."
"I always thought I was going to win," he added.
"All across the city of New York," Thompson said, "we were able to put people together." And, on "Election Day, people came out to vote. The next day, in the newspapers, I remember the headlines: 'In a Surprise' or 'In an Upset, Bill Thompson Wins.'"
Before Thompson addressed the crowd, his long-shot opponent in the Democratic primary, City Councilman Tony Avella of Bayside, spoke. Avella said it's important to nominate "the right" Democrat, someone who has a history of opposing Bloomberg. Avella said he has the second-highest rate of "no" votes in the Council—a body that often introduces bills the mayor supports, and whose speaker, Christine Quinn, has generally been an ally of Bloomberg.
Before he spoke to the crowd, I overheard Avella tell one person at the event, "I think we have an opportunity here. Thompson is not catching on."
Later, when I asked Avella to assess Thompson's campaign, he first said, "It's hard for me to say," then asked, "Where has been the leadership?" He mentioned ethics and reform and added, "You can't just start talking about this when you're running."
In the vestibule of the building, Thompson told reporters his campaign will "build momentum" and start rolling out endorsements "a few a week." But, he said, they're operating on their own timetable—a reference to the very active Bloomberg campaign, which has been opening up offices, running ads and rolling out endorsements for weeks.
"This is the pace that we laid out," he said. "This isn't something that is going to be over in two months."
Later, a reporter asked Thompson about a web video his campaign posted on YouTube in February that showed random New Yorkers unable to name something "positive" Bloomberg has done and agreeing that "change" is needed in city government.
After I posted it this week, Bloomberg's campaign jumped on the video, calling it the first "negative ad" of the mayoral election.
"It wasn't an ad, and it's something that's two months old," Thompson said. "The fact that they finally woke up and noticed is impressive."
Bloomberg's campaign is just trying to "distract from the simple fact that the mayor is spending $3 million in TV and radio in April," Thompson said. "I think we're moving along at the pace that we want to."
He added, "I realize I'm not going to be able to run TV ads in April. I'm not going to turn around and spend $200 million in this election."