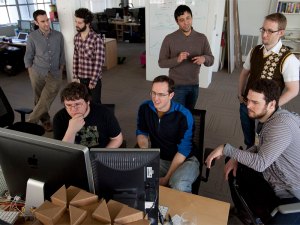 Twitter has been hyped,
obsessively covered
by "gee-whiz!" journalists (O.K.,
including us
), and even studied by experts. But now that the micro-blogging platform is the third most popular social network behind Facebook and MySpace, and growing way beyond its core early-adopter crowd, is it hitting the hype cycle's dreaded "
trough of disillusionment
"?
Let's review the evidence.
A CNN headline recently asked, Is Twitter's breakneck growth causing a backlash? The accompanying piece noted that the site's unique visitors are up 1,374 percent between February 2008 and February this year, with up to 7 million users from only 475,000, according to Nielsen NetView. Facebook, for the record, grew 228 percent, to 65.7 million users. "With all of those new Twitterers, fail whale sightings and site crashes seem more frequent," CNN's John D. Sutter wrote.
On Saturday, Twitter users were attacked by a several "Twitter worms" that invaded users' accounts.
The UK's Telegraph reported on a recent study that found that using micro-blogging services may harm our "moral values."
And even when Twitter users tried to tap into their viral power and enforce social change through the #amazonfail movement, they discovered they were dupped. During the holiday weekend, a few authors noted that a number of gay-related titles were disappearing from Amazon's bestseller's list and being flagged as "adult" content. A firestorm ignited on Twitter with the hashtag #amazonfail attached to incensed tweets. Amazon blamed the "glitch," as a "ham-fisted cataloging error" for the mistake and has said it is fixing the problem. Clay Shirky, author of Here Comes Everybody, wrote on his blog that #amazonfail was a failure because Twitter users were "seduced by righteousness" into using the tag. "[C]onservation of outrage is the wrong answer," he wrote. "We can apologize to Amazon while not losing sight of the fact that homophobic bias is wrong and we have to fight it everywhere it exists. What we can't do, can't afford to do if we want to think of ourselves as people who care about injustice, is to fight it in places it doesn't exist."
Tippingpoint Labs points us to a search on Google Trends for the phrase "Twitter Sucks"; it displays a significant spike starting in February of this year, with 10 times more searches for the phrase in March. They also mention two viral videos, one from SlateV about a fictional new nano-blogging site called Flutter and another from Current that was posted a month ago and now has more than 1.5 million views.