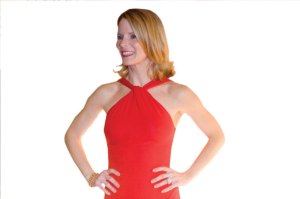 Kelli O'Hara
CafÉ Carlyle
Talk about irony. Kelli O'Hara and KT Sullivan are two sparkling blondes who are lighting up the cabaret season in the same week—both Irish colleens, and both of them from Oklahoma! This may be something of a first. I know one thing. It's the first time I've ever seen a diva on a supper club stage who is six months pregnant. Ms. O'Hara is supposed to be on maternity leave from the smash-hit revival of South Pacific at Lincoln Center. But a lovely, resourceful mother-to-be with her energy and dazzle can spend just so much time munching pickles and knitting booties. So she's passing the time wisely at the Carlyle. Years ago, she worked as a reservations clerk at the same hotel and quit after one day. You could call this upward mobility.
Eating for two has taken no toll on her vibrant talents. She looks wonderful in her high, carefully designed Josephine Bonaparte waistline; her skin glows in the dark; and her voice is still clear as Baccarat. Best of all, her eclectic program of take-home tunes fits every taste. She wastes no time winning over her fans. "I'm in Love with a Wonderful Guy" sounds as good in an intimate setting as it does in the theater, but this time it's obvious that her "wonderful guy" is husband Greg Naughton, who joins her onstage for an inspired duet on his own composition, "The Sun Went Out." Sondheim's "Take Me to the World," a song from Evening Primrose sung by a department store mannequin who dreams of what lies beyond the plate-glass windows, sets the tone for the positive sense of adventure that permeates the act. Songs from her own successes, like "Hey There" from The Pajama Game and, of course, the rapturous title song from Adam Guettel's The Light in the Piazza, have never sounded more stunning. She transforms the room with "That's How I Say Goodbye," a Marvin Hamlisch song deleted from the score of Sweet Smell of Success, and a new arrangement of Adam Guettel's "Fable" written by Harry Connick Jr. has a beat that sounds remarkably like Sondheim's theme from the French film Stavisky. Ms. O'Hara grew up on a farm singing country music, won a scholarship singing opera and ended up in musical comedy. Is it any wonder that her nightclub debut at the Carlyle is intelligent, musical and versatile? In one show-stopping piece of special material called "Opera-Country" that encompasses her natural affinity for both, she gives you her life, chapter and verse. She arrived in New York 10 years ago and she hasn't wasted a day. Stardom was inevitable, and attendant fame is a given. I love her snubbed mushroom cap of a nose, her deeply soulful eyes, her questioning expressions (placid but far from blank) and her Ivory soap glow. Kelli O'Hara is a blooming marvel. She's warm and down to earth, and you could spend the winter in her smile.
Kelli O'Hara, through April 15, www.thecarlyle.com
Oklahoma! To the Oak Room
KT Sullivan
Algonquin Oak Room
About 30 blocks south of the Carlyle, KT Sullivan is back at the Algonquin's fabled Oak Room, turning New York's most jaded sophisticates into gushing fans, clamoring for more. She's a staple now on the cabaret circuit, but no show in her vast repertoire has ever been better than this. "Dancing in the Dark," a celebration of the legendary songwriting team of Howard Dietz and Arthur Schwartz, is as sophisticated and beguiling as anything I have enjoyed in a long, long time. It is doubtful that any living performer loves the classical songs from the golden age of musicals as much as this fizzy blond bombshell, and I am convinced her goal at this junction in her life is to sing them all. And she can always be counted on to unveil a few surprises.
Dietz and Schwartz could write anything, and from the 21 songs in this show, you get the cream of the crop, including not only the evergreens they wrote together, but their separate collaborations penned with Dorothy Fields, Vernon Duke, Leo Robin, Frank Loesser and—are you ready?—Johann Strauss. The latter is represented by special lyrics added for Patrice Munsel in a production of Die Fledermaus that brings down the house. From a book of Dietz lyrics shown to her by his widow, the great designer Lucinda Ballard, KT enlisted the late Bart Howard to construct a beautiful ballad called "Lovely." Love is explored from the point of view of an ingénue ("Make the Man Love Me" from the Schwartz-Dorothy Fields score of A Tree Grows in Brooklyn) and a prostitute ("The Love I Long For," introduced by June Havoc in the brilliant Dietz–Vernon Duke score for Sadie Thompson). KT even does a pretty darn ravishing impression of Bette Davis introducing "They're Either Too Young or Too Old" from the Warner Brothers movie Thank Your Lucky Stars ("What's good is in the army/ What's left will never harm me/ I've looked the field over and lo and behold/ They're either too young or too old"). You'll thrill to the hilarious rhymes of "Rhode Island Is Famous for You" and the obscure "Blue Grass," from the revue Inside USA, about a Kentucky gal who loses her guy to a horse ("Blue dawn … Blue noon … Only see him in a blue moon …"). Accompanied by Tedd Firth on piano and Steve Doyle on bass, she fills an hour with more music than you can remember. With Cole Porter or Jerome Kern, you get largely what you already know. With Dietz and Schwartz, together and apart, you make discoveries: "Rainy Night in Rio," "Confession," songs written for Beatrice Lillie and Libby Holman, and a new arrangement of "That's Entertainment" that sounds less like a salute to vaudeville and more like a Biblical litany of show business possibilities through history. One of the few sopranos who overcomes power and range to achieve intimacy, KT is a marvel. Even when she's introspective, she is never somber. Johnny Mercer used to say there are three kinds of people in the world—men, women and girl singers. Pity he never met KT Sullivan. She could charm the honey out of a nest of bees with that kewpie doll smile. Even her ears grin. She's a cross between Jeanette MacDonald, Mae West and Little Lulu. Drop in the Algonquin and see what I mean. She does all the work while you sit back, have fun and learn something.
KT Sullivan, through April 11, www.algonquinhotel.com