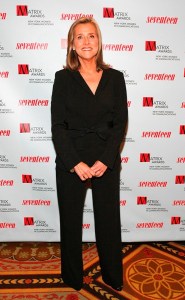 Shortly before taking the podium at the 2009 Matrix Awards ceremony honoring women in communications at the Waldorf Astoria on Monday, April 27, event emcee Meredith Vieira of NBC's Today was explaining to the Daily Transom what female news anchors have over their male counterparts.
"You can't totally stereotype it," Ms. Vieira began, as if to soften the point she was about to make. "But there are some men that have a lot of sensitivity and, in turn, there are some women that really have … well, they have balls!"
The 55-year-old anchorwoman would go on to personally demonstrate, pausing during her speech about how technology has changed the business to tell a little anecdote concerning satirist Stephen Colbert, who recently visited the Today show.
"I asked him if he Twittered and he said, no, he Twatted!" she informed the crowd of women in Chanel suits, munching on Asian chicken salad. (For every giggle in the room, there seemed to be a crinkled nose.)
After Ms. Vieira's speech, young scholarship recipients came up to the stage to declare their professional determination, saying things like "I am the next Amy Astley," referring to the Teen Vogue editor, and "I am the next Anderson Cooper."
This seemed to inspire a few of the day's presenters. "I am the next Wolf Blitzer!" announced NBC's Brian Williams, who was presenting an award to CNN anchor Campbell Brown. He then admired the actress Jessica Lange, who was seated onstage, waiting to present an award to her publicist, 42West's Leslee Dart, and offered up fratastic props. "You totally killed it in Grey Gardens, by the way," Mr. Williams said.
Deutsch Inc.'s chairman, Donny Deutsch, who was presenting an award to the CEO of the company, Linda Sawyer, followed suit. "I am the next Judy Garland!"
Earlier, Mr. Deutsch explained why, in his opinion, female ad execs were actually "superior" to their male colleagues.
"I think women are more collaborative," he said. "I think they spend less time on the emotional nonsense like whose office is bigger and instead it's all about, 'Let's get the job done and let's get it done well.'"
Daily Candy's Dany Levy invited author Kurt Andersen, her former boss at New York magazine, to present her award.
"I'm not trying to be p.c., but I just don't have a clear gender-differentiation in terms of writers and editors," Mr. Andersen told the Daily Transom. "I personally like hanging around with women more than I tend to men, but …"
Here, Ms. Levy began to nod along before finally interrupting. "Me, too!" she said. "But I do like men a lot."
Ms. Dart perhaps attracted the most attention during the luncheon due to her celebrity presenters, Ms. Lange and actor Tom Hanks.
When asked what makes Ms. Dart a good publicist, Ms. Lange said, "It's a combination of things, of course. It's her extraordinary tenacity, her amazing loyalty, intelligence and grace."
Later, when the Grey Gardens star was presenting her publicist with the award, she said that she lacked the right words to describe Ms. Dart, and so she was going to borrow a phrase that the actor John Goodman once used to describe Ms. Lange herself: "She has the balls of a burglar!" (Again with the balls!)
With that, Ms. Lange introduced Mr. Hanks, who seemed to bring the entire room of nearly menopausal women into a giddy swirl. "Hi, Leslee, darling! How are you?" Mr. Hanks said before launching into comedic bit about what it's like to have Ms. Dart as one's publicist: "She tells you how stupid you have been, if you should get your eyes done and if you should lose some weight."
Ms. Dart agreed that women were a superior species.
"When you do what I do, you have to be a shrink, a stylist, a best friend, a strategist—all while doing 10 million things all at the same time," she said. "And that's something women do much better than men because women work and women have families, so they have become amazing multitaskers." (Ms. Dart also pointed out that a lot of men in publicity are gay men, so it really all depends!)
By the time Ms. Vieira returned to the stage to close the ceremony, she seemed glad she wasn't the only one who mentioned those spherical wonders of masculinity that day and exclaimed, "I, too, want the balls of a burglar!"