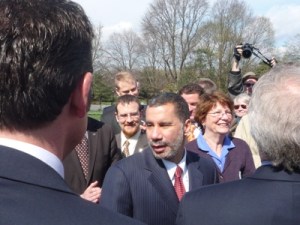 ALBANY—As environmental advocates feted the state's top legislative leaders this morning at an Earth Day celebration in Washington Park, David Paterson said officials would look at the expanded bottle bill–a centerpiece of the green agenda that was enacted this year in the state budget–which some bottlers have said cannot be feasibly implemented in time.
By June 1, bottlers are supposed to begin using New York specific-UPC codes on bottles of water, which will now include bottled water. Richard Lipsky, a lobbyist for business groups that oppose the bottle bill who continues to beat the drum against it on his blog, said that this is not feasible, because some small bottlers buy their labels a year in advance.
"There is a concern raised by the industry," Paterson said, after accepting an award for his work on the environment. "We don't want to do anything to hurt the industry while we are trying to clean up the environment, and we are talking to them and if they demonstrate to our satisfaction that they can't undergo this change in time, we'll certainly, one of the reasons that we're in government is that government continues to try to get it right, even more than we have before. We'll be amenable to that."
Assembly Speaker Sheldon Silver said it was a "technical issue" that would be addressed. Lawmakers could write and pass a chapter amendment–a bill which amends the earlier budget bill–moving the deadline back. It could also be included in a budget cleanup bill, which fixes typos and dollar amounts in the now-enacted omnibus spending plan.
If that happens, bottlers will push for relief for some businesses, Lipsky said. Bottle Bill advocates, including NYPIRG's Laura Haight, said any change should be small and limited.
The bottlers, for now, seem to have the ear of the Senate leadership. Yesterday, Majority Leader Malcolm Smith  said "I don't know if we're going to go back and correct that, but that was a choice that might need some restructuring."