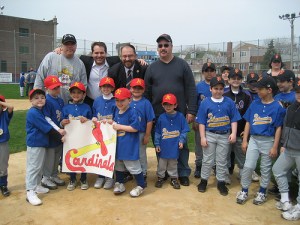 The state is on "high alert" due to confirmed cases of swine flu, although that doesn't appear to require much action by regular people. Wash your hands.
Al Sharpton said yesterday of the 2010 governor's race: "This is not about David and Andrew. This is about David and Rudy Giuliani."
David Paterson is getting ready for battle, writes the Times.
Three former aides to Bill Thompson went on to work at firms that then invested a ton of money in the state pension fund.
Reportedly, Leslie Crocker Snyder was such an effective prosecutor that there appeared on the street bags of heroin embellished with her face and the phrase "25 to life."
Frank MacKay, leader of the state Independence Party, announced he will defer to Steve Pigeon and Tom Golisano on endorsements in the Buffalo area, which The Buffalo News interprets as Golisano's growing influence in state politics.
Adolfo Carrion finally paid his architect.
A blogger reflects on the death of the NYRI powerline, writing that it united upstate citizens who protested against it, but ultimately died because the economy crashed.
Is there really much point anymore in reporting that the Second Avenue Subway has been delayed?
The New York Power Authority is getting ready to build a large wind farm near Buffalo.
A blogger wonders why it's not in Rochester.
We may get a statewide trans-fat ban.
A Long Island City blogger is thrilled with the new park space.
Adam Lisberg predicts the mayor and Council will raise the sales tax, but not income taxes.
Michael Bloomberg is named one of the best American C.E.O.'s of all time by Portfolio
The Superfund program has been chronically underfunded, which may be part of the reason Michael Bloomberg opposes it for the Gowanus Canal.
Monroe County Executive Maggie Brooks, over the last four years, has received $199,000 from county employees.
An unnamed Democratic operative tells Erik Engquist "If Bill doesn't start jabbing and punching, this race could be over in six weeks."
Protesters complain about taxes in Westchester.
Hillary Clinton went to Iraq and Beirut this weekend.
The Times is now using the word "brutal," but not "torture."

The Washington Post is using "harsh questioning," which is definitely an understatement.
Stay calm! The president did not get swine flu in Mexico.
Ken Salazar, new secretary of the interior, is giving Indian tribes what seems a long-overdue $500 million.
Matt Bai: "Twitter seems somehow out of step in its political sensibility — that is, in the promise of false intimacy between politicians and voters."