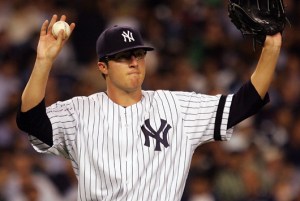 Jacoby Ellsbury's steal of home in Sunday night's game – with New York third baseman Cody Ransom standing so far away from Ellsbury that he couldn't have identified him in a police lineup — didn't end the season for the New York Yankees, but if things continue like this for much longer, Yankee fans will look back on it as if it had.
This team is a $200 million mess with several semi-pro players on the roster and an aging superstructure on the verge of collapse. Alex Rodriguez is due back soon, but the Yankees' season may well be over by then. Meanwhile, there's one possible shot in the arm that could start a reversal in their fortunes. As we go to press, it looks as if Phil Hughes will be starting Tuesday night against the Tigers at Detroit. It's about time.
If American sports' most valuable franchise ($1.5 billion according to a recent Forbes assessment) had a modicum of wit to match its wealth, Hughes would have started the season on the Yankees roster.
Two years ago, when he was the second-youngest player in the American League, Hughes was looked on as the hottest pitching prospect in the Bronx since … well, probably ever. He was built like a younger, slightly taller Roger Clemens, with virtually the same mechanics – the same repertoire and velocity. "The Pocket Rocket," they were calling him. There seemed no limit to what Hughes could do. The excitement that surrounded him was much like the hype that greeted Joba Chamberlain a few months later. They were, potentially, the two greatest young pitchers to come along at the same time ever in Yankee history.
The radar gun on Hughes's early appearances put him at just under 97 mph on a four-seam fastball, and the slow ball he threw off that pitch was referred to by then-Yankees pitching coach Ron Guidry as "a knee buckler" – batters would bend at the knee trying to follow the ball as it broke down and then, as if frozen in place, watch it drop over the plate for an embarrassing strike.
Hughes's promise seemed on the verge of deliverance on May 1 of 2007 when he threw a no-hitter for 6 1/3 innings before sustaining what the injury report called a "Grade 1 hamstring strain." Hughes didn't think it required rehab, but 24 days later he sprained an ankle during a conditioning exercise. The docs slapped a Grade 3 on that one and Hughes was out of the lineup for 3 ½ months.
He's never quite been able to put it back together, though he finished the 2007 season with a 5-3 record, striking out 58 and walking just 29 in 72.2 innings. He finished the season with a fine bit of relief in the ALDS against Cleveland, giving up three hits and striking out six in 5 2/3 innings. But he had a miserable 2008 in every sense, losing all four of his decisions with a 6.62 ERA. The cheering postseason news was that it may not have been his fault: tests later revealed that he had pitched with a stress fracture in a rib, which caused him to work in pain. After rehab and the addition of a smart cut-fastball to his armament, his strikeout ratio shot back up – 38 Ks in 30 innings in the Arizona fall league. Hopes resumed for the season.
And what did the Yankees do? They signed 37-year-old Andy Pettitte to fill out the starting rotation. Pettitte has gone 43-36 over the past three seasons and was 14-14 last year, and you know he's not going to pitch much better than that this year. If the Yankees had guts and imagination, Phil Hughes would be in the starting rotation now instead of waiting to see if Chien-Ming Wang's April swoon is permanent or temporary.
If the Yankees organization had just a single person with vision, it would be understood that Hughes is worth taking a chance on, that he has the potential to be the Yankees' future and that he is giving the Yankees absolutely no return for the enormous investment they've put into him simply by filling few extra seats for his starts in Trenton.
What you can't help wondering is why, up to now, it wouldn't have been possible to prepare him for a slot in the starting five with some on-the-job training in the bullpen? Why, exactly, did we have to wait to see if Wang's arm fell off before Hughes was given a chance to pitch?
When I popped this question to pitching coach Dave Eiland – who does not set but merely reflects the Yankees' strategy — his response was, "We want him to be a starter, and the best way to do that is to find him starts, not use him out of the bullpen." O.K., fine, but how do you "find" starts for a pitcher? The only way Hughes would have gotten chances is if Wang or someone else failed, and then what? In other words, the Yankees have been operating in their usual crisis-management mode, and after the weekend's Red Sox disaster, it's crisis time.
Before the Boston Red Sox series, the Yankees, particularly Brian Cashman, had become pretty arrogant about their long-time sore spot, pitching. "I think we've got the best starting rotation in the league," Cashman was heard to say just a week ago. They do if C.C. Sabathia settles down, if A.J. Burnett doesn't get injured, if Joba Chamberlain lives up to his great potential, if Andy Pettitte pitches a little better at 37 than he did at 36, and – biggest if of all – if Chien-Ming Wang rediscovers how to make his sinker sink.
That's a lot of ifs, and Phil Hughes is a big if, too. But he's a gamble that can pay off in a major way, one that could turn an entire season around. Hughes could be that good; just two short years ago everyone in the Yankees organization thought that was the case. They could have made him part of a package deal for Johan Santana, and they chose not to.
Now's the time to start justifying that decision by handing him the ball.