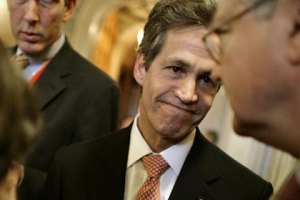 The walls are closing in on Norm Coleman.
Officially, the Minnesota Republican has been pursuing a legal contest of the state Canvassing Board's January 5 declaration that he'd been defeated by Al Franken by 225 votes in last November's Senate election.
But, really, that was just Coleman's cover story, a tactic to buy time to sow doubt about the legitimacy of Franken's narrow, recount-assisted victory. For the past three months, no one has seriously believed that Coleman's legal challenge, which was heard by a three-judge panel, was going anywhere. But if he could stretch things out long enough and create the appearance of chaos and confusion, maybe he could convince a majority of Minnesota's voters that the only reasonable solution would be a new election.
Strategically speaking, it wasn't the worst idea, nor was it entirely without precedent: 34 years ago, Republican Louis Wyman, a former congressman who'd been lured from retirement to run for an open Senate seat in New Hampshire, spent months agitating for a new election—and got his way, the only time a do-over Senate election has ever been ordered.
The re-vote that Wyman sought didn't become a reality until well into the summer of 1975, nearly nine months after the original election was held. Measured against that, Coleman would still seem to have plenty of time to force a similar outcome. But the New Hampshire and Minnesota cases are different in three specific ways—all of which work against Coleman.
The most significant is Monday's strongly worded ruling from the three judges who spent the last three months hearing Coleman's challenge. Not only did they side with the Democrat, declaring him the winner by 312 votes, they used language that conveyed a complete lack of sympathy for Coleman's legal arguments, writing that if the reasoning behind his main contention was taken to its logical conclusion, it would produce "an absurd result."
"The overwhelming weight of the evidence indicates that the Nov. 4, 2008, election was conducted fairly, impartially and accurately," the judges wrote. They also declared that Franken is now entitled to be officially certified as Minnesota's next senator—a step that can only be taken with the cooperation of the state's Republican governor, Tim Pawlenty.
To be on the wrong end of such a powerful, authoritative and long-awaited ruling figures to have a devastating effect on Coleman's effort to muddy the waters. It would be one thing if the panel had issued a split decision, with one of the judges offering a dissenting opinion, or if its ruling had conceded that there is some validity to Coleman's pleadings. But there is no ambiguity in this ruling whatsoever.
This is a far cry from what happened in the New Hampshire case, where two conflicting recounts produced two different results. The first, conducted by New Hampshire's secretary of state, gave Democrat John A. Durkin a 10-vote lead; the second, overseen by the all-Republican Ballot Law Commission, declared Wyman the winner by two votes.
Durkin then brought the matter to what was then an overwhelmingly Democratic Senate. But Democratic senators were weary of involving themselves in a ballot-by-ballot recount, and there were plenty of conservative Southern Democrats who were willing to stand with the G.O.P. minority to block any effort to seat Durkin.
Wyman recognized that he had no chance of being seated by the Senate; the best he could do was prevent the body from seating Durkin. But the absence of an authoritative third-party ruling—like that of the three-judge panel in Minnesota—allowed Durkin to gain traction in his push for a new election. New Hampshire voters genuinely believed the November election had produced no clear winner, and when it became apparent that the Senate wouldn't unilaterally seat him, Durkin finally gave in and acceded to the new vote, which was held in September 1975. (Durkin ended up winning it by 27,000 votes.)
Public opinion is likely to play a different role in Minnesota, now that the three judges have weighed in. Polling during Coleman's challenge hasn't been extensive, but a survey just over a month ago found that, by a 46 to 44 percent margin, Minnesotans favored a fresh election. This gave Coleman plenty of cover to persist with his delay games. But that fragile re-vote support will almost certainly evaporate now, as word of Monday's court ruling sinks in.
And if there is a sizable shift in public opinion, Coleman will suddenly have an incentive to give up his legal games. Right now, he's pushing ahead with an appeal to the state Supreme Court, and reserving the right to launch a federal lawsuit and to take the matter to the U.S. Supreme Court, if necessary—again, all tactics aimed at laying the groundwork for a re-vote. But he has his future to worry about, too. If the public abandons the re-vote concept, Coleman will risk doing (even more) damage to his long-term political career if he doesn't give it up as well. He'll also begin to lose support from fellow Republicans; awful poll numbers often produce pragmatic thinking.
The final key difference between Minnesota and New Hampshire is the margin of victory. As noted, two New Hampshire recounts produced two razor-thin margins—two votes for Durkin and 10 for Wyman. Franken's margin now stands at 312, up from 225 after the Canvassing Board's recount ended in January. That's still very close, obviously, but it's also far less ambiguous. It was easy for Wyman to argue that it was impossible to tell who had won the New Hampshire Senate race; it's a tougher task for Coleman in Minnesota.
Politicians are only human, so you can't really blame Norm Coleman for standing his ground all these months. But it's over.