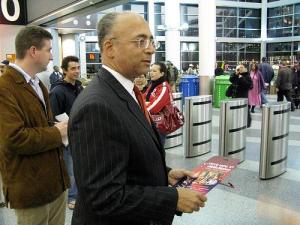 When Bill Thompson called fellow Democrat Carmen Arroyo at her Albany office to discuss his race for mayor, she ended the conversation abruptly.
"I had to hang the telephone on him because he was calling my office in Albany," Arroyo, an Assemblywoman from the Bronx, said in a telephone interview from her home. "He has to be careful. I'm not going to discuss politics on that phone. I shouldn't."
"It's not because I hate him or something like that," Arroyo said. "You're talking to me on my house [phone]. He could do the same thing."
Thompson may want to save himself the call.
"To make a change now is very dangerous for the city," said Arroyo, who supported Republicans George Pataki and Rudy Giuliani in the past. "But we have time to think about it."
A number of Democrats—many of whom are naturally more sympathetic to Thompson than Arroyo is—are expressing early reservations about Thompson's prospects in a mayoral race against Michael Bloomberg, an independent-registered billionaire who will likely be running, as he did in 2001 and 2005, as a Republican.
The Bloomberg campaign is already running slick television and radio ads, opening campaign offices in every borough and making overtures to traditional Democratic allies. The Thompson campaign, by contrast, has been somewhat hard to detect.
Letitia James, a councilwoman from Brooklyn who is supporting Thompson, said she was hoping to see more outreach from her preferred candidate.
"It's certainly not the grass-roots campaign I was anticipating," said James at an April 9 press event on a rooftop in the Brooklyn Navy Yard, where Bloomberg had just unveiled some environmental initiatives. "But it's still early."
(James said Bloomberg's aides called her numerous times asking her to attend the event.)
Leroy Comrie, a councilman from Queens, said in a telephone interview on April 10 that his mostly middle-class constituents have a "natural affinity, as do I, towards Bill Thompson."
The Thompson campaign, he offered, is still working a few things out.
Thompson "needs to focus his race towards having a base of support in the November election" and "find what is the best way to identify his campaign. I think they're sitting back and trying to figure that out."
Melissa Mark Viverito, a councilwoman from Manhattan with strong ties to labor, said she had meetings with Thompson and, separately, with Bloomberg campaign representatives at a coffee shop in her district.
Viverito said she had yet to decide whom she would support, but she did take note of the praise heaped onto Bloomberg on April 6 by Representative Charles Rangel, who also represents her district, and former President Bill Clinton.
At separate events on the same day, both said Bloomberg had done "great" in his job as mayor.
"I obviously value the opinion of my congressman and former president," said Viverito. "My process of vetting includes having conversations with people like that."
For its part, the Thompson campaign says that it's too early for Democrats to be judging the strength of their effort, and that Bloomberg's efforts at this point are actually grounds for encouragement.
"He's got to be worried about something," said Thompson campaign spokesman Eddie Castell. "For them to be out there this much this early tells you something. A two-term incumbent mayor, you'd think he has a record to run on. But the campaign feels the need to sort of get out there as soon as they can and start to put out propaganda in paid ads as early as April 2009. It tells you they're worried."
Castell said that the Thompson campaign will be announcing the hire of a deputy campaign manager later this week, and of a press secretary next week.
"We're building smartly and strategically and we'll be rolling out that way as well," he said.
But even some longtime, reliably liberal party stalwarts—ones who will almost certainly end up supporting Thompson—have seemed oddly reluctant to express their support publicly.
Public Advocate Betsy Gotbaum, for example, attended a March 26 fund-raiser for Thompson in Manhattan. But when she was asked by reporters why she was there—and whether she was supporting Thompson for mayor—she beat a hasty retreat.
"I'm not saying anything," she said. "I like breakfast."
Queens Borough President Helen Marshall told people at a March 19 fund-raiser for Peter Vallone Jr., "It's a pleasure to welcome the mayor back to our borough. He won this borough before and he will again."
In a March 24 interview, Marshall told me she'll support the Democratic nominee.
Then, unprompted, she said Bloomberg should have tried for it.
Marshall, who was in Sunnyside to see Bloomberg speak to the chamber of commerce there, said, "Whoever the Democrats appoint, is the person I'll support. He should have tried to go for the Democratic designation too. He should have. I think it would have been close. I think he would have had a good shot."
(A Bloomberg campaign official told me it was "very unlikely" the mayor would get into the Democratic primary, and said that while they were making a "serious effort" for the Working Families Party support, it was "a long shot.")
Castell contends, gamely, that the Bloomberg campaign's expensive blur of activity at this point was so much stagecraft.
"The conversation that's happening out there in the grass roots—in the civic organizations, meeting with people, not things that are staged the way Bloomberg's campaign is staging stuff, but the stuff that is happening out there for real and organically—that's the true measure of what is going on in the campaign," he said.