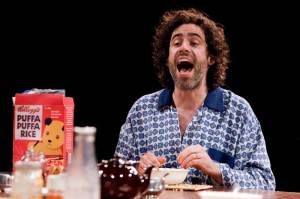 And so to the burning question: Which one of Alan Ayckbourn's trilogy of vintage 1973 English comedies, The Norman Conquests at Circle in the Square theater, must you see?
The first, Table Manners, is my favorite. Not only is it consistently, irresistibly funny; it contains a dinner-party scene so blissfully hilarious that I was on the floor laughing.
All three plays take place during the same absurdly traumatic country-house weekend. They can be seen separately and in no particular order, but they unfold chronologically. They reveal what's happening from different perspectives, so that when a character exits the dining room during the first play, we see what he's really up to in the sitting room during the second (Living Together). Or for that matter, who's failing to seduce whom in the garden during the third (Round and Round the Garden).
The prolific Mr. Ayckbourn has always been energized by solving self-inflicted puzzles. His Intimate Exchanges (1982) is eight interconnecting plays—no less—that all open with exactly the same scene. His House and Garden (1999) is notoriously two plays performed simultaneously by the same cast in adjoining theaters! (Exit the king, as it were, who then does an insane dash to appear in a scene taking place next door.)
The Norman Conquests, with its wonderful all-British cast, comes to us via the Old Vic theater and is expertly directed by Matthew Warchus (of God of Carnage and Boeing-Boeing). I saw the triptych in a single marathon day and night, and must admit that I was flagging a bit during the third play. This isn't, after all, Das Rheingold. This is more what Tom Stoppard might describe as "the Coast of Suburbia."
Mr. Ayckbourn, the bard of middle-class manners, is the masterful chronicler of English suburban foibles. He conveys as no other modern British playwright can—with the exception of Alan Bennett—the national identity of emotional reticence and fumbling embarrassment (or the Brits' insatiable appetite for awkward sex in unlikely places).
His ear for the verbal tics and rhythms of the frayed bourgeois, with its quiet neurosis and lingering grievances doting on defeat, is exact. His archetypal characters are living in partially submerged hysteria. In Mr. Ayckbourn's hands, they commit an unpardonably un-English faux pas: They fail to keep up appearances.
The premise of The Norman Conquests is deceptively close to a typically English farce like No Sex Please, We're British. Norman, a librarian and unlikely Casanova, is unhappily married to myopic, workaholic Ruth. Norman is all set for a dirty weekend with his wan sister-in-law, the somewhat ungroomed Annie (in whose neglected Victorian house the action takes place).
Henpecked Reg—Annie's brother and inventor of incomprehensible adaptations of Monopoly—arrives with irritable Sarah, his bossy wife (whom Norman also fancies). Plus, there's the hopelessly shy local vet Tom, who might be a bit slow. He's Annie's perpetual suitor who's always blundering in at the wrong moment.
Still, The Norman Conquests goes beyond the norms of boulevard comedy. Mr. Ayckbourn's recent Private Fears in Public Places (2004) touchingly reveals the playwright's real intentions—should there have been any doubt. He's hilariously serious.
His comedies are sly portraits of human folly. But I disagree with those critics who acclaim Mr. Ayckbourn as the British Chekhov. True, Chekhov also wrote comedies set in country houses—but does that make him the Russian Alan Ayckbourn?
The Norman Conquests is by no means a tragedy. But, like all the playwright's best work, its comedy is underpinned by unspoken yearning and unhappiness. The trilogy reveals English lives that never quite blossomed, never quite connected. The stoic Brits soldier on, as ever. Solitude and desperation within the farcical mayhem are the outcome.
McTeer Tears It Up
I was disappointed by Phyllida Lloyd's acclaimed Mary Stuart that comes to us via the Donmar Warehouse in London. Friedrich Schiller's enduring political drama from 1800 for fanatically religious times offers us two of the greatest roles written for women in theater history. And its "female kings" are mythic shadows of each other, stalkers of dominance and power, similarly and tragically fated.
But for me, the production's renowned actors from London, Harriet Walter as Queen Elizabeth I, and Janet McTeer towering over one and all as the imprisoned Catholic Mary, Queen of Scots, are locked too securely in the grip of a declamatory British classical style. Ms. Walter makes a starchy, intelligent and lethally witty monarch, but she does not move us. Ms. McTeer, in the showier role, begins modestly demure and goes on to fire on all cylinders at anything that moves. (Not for nothing is the star sometimes known as Janet McTeer-Up-the-Stage.) But the histrionics only reduce Schiller's verse play to loud melodrama.
The poetry is missing from Peter Oswald's determinedly relevant new version, and with it, lyrical nuance. The dominant set—a black wall—isn't pleasing. The women are dressed in period costume, the men in contemporary business suits. (It must be a message.) The director's big rain sequence leaves Ms. McTeer sloshing about in some kind of aqua spectacle (reminding us, unfortunately, of the rain sequence in the revival of J. B. Priestley's An Inspector Calls 15 years ago).
At close to three hours, Ms. Lloyd's production is an hour longer than Ingmar Bergman's erotically charged, revelatory Mary Stuart of 2002 at BAM. Bergman, the master of female psychology, and his two liberated actresses, Pernilla August and Lena Endre, were something else entirely.
jheilpern@observer.com