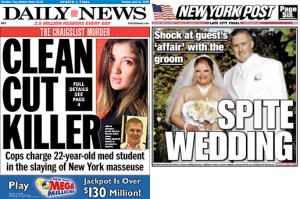 The New York Post: On a morning when the knuckle-dragging element of the Internet burns up with the question whether Miss USA candidate Carrie Prejean of California was denied the crown because she said she believes marriage should be between a man and a woman, the front pages of the tabloids this morning are hardly an advertisement for heterosexual stewardship of the ancient institution. "SPITE WEDDING" is what we get on the front page of The New York Post this morning—for the entire front page. The story is labeled "exclusive," but we wonder if they didn't just know they were the only ones who had it because they were the only ones who could possibly have wanted it. We have a lot to talk about! The deck gives a little more context: "Shock at guest's 'affair' with the groom." Who are these people again? Right. Let's reorganize the Post story in chronological order.
Harold Purdum was working as a pool installer and carpenter at Gold Coast Pools in Glen Cove, Long Island. September of last year his wedding day arrived: the bride was named Sandrina! But at the wedding ceremony (according to the Post account), Mr. Purdum's boss, Jennifer Angevine, had an outburst. "Me and Harry were good together," Mr. Purdum's boss allegedly yelled at Sandrina (where did her last name go? We'll get to that). "You had to ruin everything by marrying him. You f- – -ed everything up," Ms. Angevine continued. Now, the reception was held at Naresa Palace catering hall in South Ozone Park, but it's hard to tell how that went: on the one hand, Sandrina, who is referred to by first name throughout the article, does appear to have taken Mr. Purdum's name and moved in with him in Forest Hills. On the other hand, the reception got so "raucous" that all the guests were ordered out. So, they went through with the marriage, and even had a reception, for a while at least. Now, Sandrina is suing Ms. Angevine! For poking her in the chest during her tirade (that's battery), inflicting emotional distress and slander. See, Sandrina says she'd like to have a baby with her husband, but she is held back by her suspicion that before their marriage he slept with Ms. Angevine. He says he didn't! And after all, Sandrina is accusing Ms. Angevine of slander, which is to say, she accuses Ms. Angevine of having made up the affair. These two are thinking of leaving New York, things are so confusing to them! Good riddance. Try California!
Daily News: Well, at least Sandrina isn't in the same boat as Megan McAllister. The New Jersey native is scheduled to marry 22-year-old Phil Markoff, a fellow premed student she met at SUNY Albany, but those plans may be on hold now that police have arrested him as the suspected "Craigslist Killer," the Craigslist massage customer who fatally shot masseuse Julissa Brisman and left her dead in a room at the Boston Marriott Copley Place. Mr. Markoff has been further named as the perpetrator of two nonfatal incidents involving women who advertised services on Craigslist; indictments on those counts, the News reports, are forthcoming. "He is a predator," Boston Police Commissioner Ed Davis said in a quote that is carried in all the papers and was probably a statement. "There may be other victims out there, and we want to help you." The News does its entire cover on this story: a label at the top of the page reads, "THE CRAIGSLIST MURDER," and the main hed is "CLEAN CUT KILLER: Cops charge 22-year-old med student in the slaying of New York masseuse." Everyone is going with this angle, that this guy looks so all-American and "preppy," though more than one person interviewed in this morning's papers used the word "creepy" to describe him instead. At any rate, the News has tons of details, and along with the much-used glamour shot of the murder victim, there is a little inset photo of Mr. Markoff himself, looking not so much preppy as, well, creepy! Context is everything: can't we find a facebook photo of him in distress-washed red pants, Blucher moccasins and a rope bracelet somewhere?
General observations: It's important this morning to note that the News cover story wasn't something the Post had missed: the Preppy-Craigslist Murderer story was everywhere yesterday afternoon, so there was plenty of time for today's editions. The murder happened in Boston but the angle is local: the victim is a New Yorker and the suspect's fiancee is a Jersey girl. On the other hand you have Sandrina. Is she pretty? We'll leave that up to you, but the answer is no. Is she important? Is her fiancee? Does her lawsuit even make any sense? What are we missing here? Why is this the cover of the paper? Why is it the entire cover? We've struggled with this for a while this morning and have no answer. It's a disaster.
Winner: Daily News