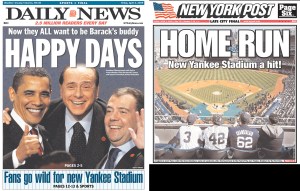 Daily News: Did you know that Barack Obama, when he goes to Europe, is "The Fonz"? That thumbs-up pose he's doing on the cover of the Daily News, and the faces of Silvio Berlusconi and Dmitry Medvedev smiling (with a little nudge from the display copy, the smiles certainly could look sycophantic, Ralph and Pottsie style), seems to be what suggested the headline "HAPPY DAYS" to the editors. Above the main headline is a dek that reads, "Now they ALL want to be Barack's buddy."
This is a clever way to play President Obama's foreign-policy tour of Europe, since it gives Mr. Obama little in the way of credit for any of the actual policy. It's a reminder that not so long ago Europe was not our biggest fan. But a lot of New York readers, given the choice of liking or lumping that fact, chose to lump it. Screw Europe! Is President Obama delivering on a campaign promise to restore America's good name with its longtime allies? Is he pandering to wimpy Hague bureaucrats and Surrender Monkeys who eat funny yogurt and wear gold chains under their dress shirts? The News reports: you decide.
Inside are some great quotes: "We now see a completely different approach, and this suits me," said Mr. Medvedev. Nicolas Sarkozy, who is prettier and tabloidier and less insane than Messrs. Medvedev and Berlusconi, probably didn't qualify for the cover since he had threatened to walk out if the president pushed a European version of a stimulus package. Mr. Sarkozy found him to be "a very open man, very open-minded, entirely in line with what we want—namely that politicians shoulder their responsibilities and face up to them." Oh, and Indian Prime Minister Manmohan Singh asked Mr. Obama for an autograph, for his daughter.
But wow, it's a rough day for the tabloids if this is leading the paper today, isn't it? We just had Obama with the Queen yesterday; is this really a running front-page story for a New York tabloid? Can't we find another countess who's getting a divorce over there, or in Connecticut, or something?
Yesterday about 20,000 neighborhood residents and Yankee fans got a peek inside the new Yankee stadium, and a package of stories about the new stadium is flagged on the bottom of the page with a nice pinstripe motif under the words: "Fans go wild for new Yankee Stadium."
Reporters Oren Yaniv and Corky Siemaszko combed the bleachers and seemed to get rave reviews from a pretty wide variety of fan at the club. The rest of the package is pictures and solicitious quotes from the players about how awesome the new stadium is. Well, it's baseball season, and it's … exciting? … to have a new stadium, even if the popcorn costs seven bucks.
The New York Post, meanwhile, takes over its entire front page to shill the new stadium to readers. 'HOME RUN,' the headline declares: "New Yankee Stadium a hit!" The picture shows the backs of four fans in the nosebleed seats—a nice bit of populism—but with the result that, well, you can't really see the field, or the players, or anything else. Both of the tabloids are full of fantastic pictures of the players, who tested out the field yesterday for fans; the architecture, which is to us a little scary and brutal and looks like something from a Fritz Lang movie, but at least is impressive-looking; and lots of candids of fans in the stands who are actually facing the camera. It's a static image, no dynamics or emotion or grandeur. And it is the entire front page! The Post, too, offers lots of images inside and an impressive spread. But that is not what we're here for.
This front-page set-up is made only more baffling by the fact that so much of the material inside the paper tears the new stadium to shreds. To select just one quote from Joel Sherman: "They will tell you they built this stadium for the everyman, stressing what they consider still affordable pricing and amenities. But this stadium, in actuality, was built for a moneyed class that in many respects does not even exist in this city any longer."
And then there is this from Phil Mushnick: "In the 21st century, all of the Mets, Yankees and NYC resources could not duplicate what the Romans did 20 centuries ago. The Roman Coliseum, now 2,000 years old, never had a bad seat."
The bad sightlines from the cheap seats—wait, what's our cover image again?—are apparently really bad: "The Mets' new billion-dollar, state-of-the-art, restaurant- and luxury-box-lined park has loads of obstructed-view seats—same as the Yanks' new park. The Mets are pretending that theirs don't exist, while the Yanks are pretending that theirs were part of the plan, all along." Mr. Mushnick adds, "Who was the architect? George Costanza?"
Sounds like a big hit to us!
Meanwhile, we think it's worth noting that the Post didn't reach for the low-hanging fruit of Obama in Europe for its cover. Remember, these are the people who made a front page photomontage in which the United Nations security council was seated around a table, their heads replaced with the heads of weasels.
General observations: First of all, we'd like to address a question we've gotten from a few readers: Are we employed by Rupert Murdoch? Why does the Post always win this thing? I've posted an answer here, which I hope you'll read; but suffice it to say we're calling them as we see them, and we're not worrying about anything like "balance." That, we hope, comes through in the analysis. We're being as fair as its possible to be in the midst of a subjective enterprise. And what you are about to read has nothing to do with that reader feedback.
Winner: The Daily News. But do yourself a favor today and spring for The Times. Who doesn't like to start the weekend a day early?