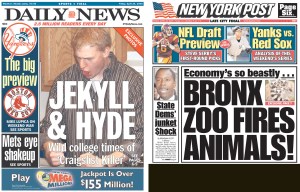 Daily News: We've been counseling the Daily News not to fear overdoing the Craigslist Killer piece this week, but we fear the paper has proven us wrong. Today's front page promises "EXCLUSIVE PHOTOS" and offers one of them: the accused murderer caught in a candid in a sort of party fist-pump in front of some kitchen cabinets! These are wild crazy times! "JEKYLL & HYDE" reads the main headline, then: "Wild College times of 'Craigslist Killer.'" Wow, this looks good! It seems like, given the oversharing habits of Philip Markoff's generation of college students, any number of pictures of questionable college deeds should be available to the enterprising. Perhaps some pictures of him doing upside-down Kamikaze shots or streaking the homecoming game? Rowr! But, why "JEKYLL & HYDE"? This guy seems all Hyde, all the time! Do the editors at the Daily News really believe that seriously ambitious college students don't also party hardy? What you get inside: even more unremarkable tales from Morgan Houston, who is the News' attempt, Mr. Higgins-like, at creating a viral celebrity. You may recall her last outing, when she yesterday recalled what a creepy drunk Mr. Markoff was. Also yesterday Philip Markoff reportedly tried to kill himself in his cell using shoelaces? But why talk about that when we can look at two pictures of Ms. Houston sitting next to Mr. Markoff at what are presumably college parties? If your newsstand is the kind that tolerates a quick flip through the pages before buying, you'll find out soon enough how unedifying this four-page spread is. But, I will admit, I took the bait with an eagerness. Pay in haste, repent at leisure.
Tonight begins a three-game series between the New York Yankees and the Boston Red Sox, and the News flags Mike Lupica's column as "The big preview." It's a narrative about narrative! "The Red Sox vs. the Yankees is never bad. It wasn't last year even though the Rays beat both of them and the Yankees finally produced a $200 million team that wasn't good enough to make the playoffs. But maybe this season the rivalry goes back to being great again, and the narrative we always want has both of them back at the top of the AL East." But one of the big villains in the piece is the new Yankee Stadium, which he thankfully observes is not where the two teams are facing off tonight: The fact that this is all starting at Fenway guarantees the old story line we all want. What happens when the action moves here? According to Lupica, it means fans catching more fly balls than fielders do.
As long as we've got some Yankees action to flag, the News gives a little box to its reporting on the Mets: "[Jerry] Manuel suggested changes to the rotation could be in the offing after each pitcher is given one more opportunity. A team insider later elaborated that no one, aside from Johan Santana, has immunity."
New York Post: In thi$ economy, even the animal$ are $uffering! Wow, that never gets old. We'll explain in a bit. O.K.! So the Bronx Zoo yesterday informed a committee of the City Council that a budget shortfall was going to force them to close some exhibits and move some animals to other zoos where more people like them. Shakeup in the captive-animal kingdom! The Post decides to characterize these as layoffs: See, that means they can drag a business-reporting conceit all the way through the article! "Economy's so beastly … BRONX ZOO FIRES ANIMALS!" Of course if everyone getting fired these days were placed in other jobs automatically, where people had money to pay them, instead of being dumped on the street and stripped of the company car lease, then unemployment would not be such a big deal. But these animals (which include deer, bats, porcupines, foxes, lemurs, caimans and antelopes) will all be given new homes where the zoo won't have to come up with $15 million this year to keep them. O.K., besides "beastly" in the headline, there is the lead: "Situation wanted: will work for hay." Oh boy. More: "Wild-fired from the zoo." Huh? Perhaps not the ideal headline as actual wildfires threaten actual human lives in South Carolina. And also! A handy little series of "cover letters" from some of the animals getting the boot. The Arabian Oryx is "the perfect mammal for these terrorist times because it speaks" both Arabic and Hebrew. Chuckle? No, us either. For what it's worth, on Morning Joe this morning, the piece was a big hit with Mika Brzezinski and Joe Scarborough, who gamely played along with the Post's "pink slip" conceit.
Spring is sprung, the grass is riz. And the front page is where the sports stories is! A doubleheader (sorry!) at the top of the page flags the section in general: We've got an NFL Draft preview from Steve Serby and a teaser for pre-game coverage of this weekend's series between the Yanks and the Red Sox. No mention of the Mets' blues. Wait a minute, what's the headline? "Yanks vs. Red Sox: Analysis of this weekend's series." Are we still reading the News? Here's what Mike Vaccaro wrote inside: "Tonight is as good a time as any for Joba Chamberlain to remind everyone who he is, what he is, how important he is to the Yankees and how vital he will be to the next generation of the Yankees-Red Sox rivalry." So why not "JOBA JUICE" for the headline, then "Makes his case in weekend series" or "Yanks vs. Red Sox" or something? It's like somebody hadn't gotten a smoke break in too long and despaired of actually writing the display for this refer.
We're awfully busy at the Post today, because we've talked about three stories and there is still one more left! "State Dems' junket $hock," reads the headline, and the article begins with a jump to the inside explaining a junket that the evil overlord of the Democrat-controlled State Senate is planning even as the local economy tanks. (We always read that "$" substituted for "S," a favorite Post ploy, with a li$p.) The tin-eared majority leader, Malcolm Smith, seemed not to catch a "Rome is burning" reference to his fiddling, and what's worse, he suggested that taxpayer money would fund the trips to Puerto Rico, China and India before backing off and saying attending senators would be paying for themselves. (In which case, we suspect, no junket anymore!)
General observations: Wow, did the Daily News oversell. We're struggling. When what's inside is this far from what's advertised, is there a penalty? We are going to make an argument for "yes." O.K., you've got me to pick up the Daily News because I think I am going to see pictures of a murderer doing Jell-O shots, and then they are not there. What happens the next time you advertise a GIANT COLLECTION OF SHOCKING PHOTOS INSIDE? All wood is overwritten, all of it is oversell. But it has to be the right level of oversell. If we put this up against the BRONX ZOO story in the Post? Well. Taking a story like this, one of the more mundane effects of the present recessionary economy, and turning it into a conversation piece is one of the great magical powers of the Post. To us, this one fell flat. Do you believe anyone will be standing around saying, "Can you believe the recession has gotten SO BAD that the Bronx Zoo is firing its animals?" Actually, never mind. This morning, Joe Scarborough and Mika Brzezinski did just that when they held this cover up. So let's give the Post this one. But we are handing out a disciplinary notice on the Yankees headline; not that the News did any better.
Also, dear reader, apologies for the lateness this morning.
Winner: New York Post