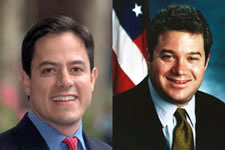 City Councilman David Yassky of Brooklyn, a candidate for city comptroller, announced in an email to supporters that he has been endorsed by two lawmakers from Manhattan, Assemblyman Jonathan Bing and City Councilman Dan Garodnick.
They're two of the major cogs in the East Side Democratic power establishment led by Representative Carolyn Maloney.
Yassky is the only candidate in the race not from Queens. Conventional wisdom is that Yassky -–a wonky legislator who has ties to Michael Bloomberg and got an endorsement from the New York Times during his 2006 congressional race–is best-positioned to win over liberal voters in Manhattan, who don't have a favorite son or daughter in the race.
The other candidates are Melinda Katz, David Weprin and John Liu, all from Queens.