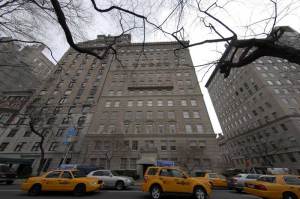 Real estate has crumpled, prices have tanked, desperation is thriving and swagger is dead. But at one of the oldest, meanest, most gubernatorial, thoroughbred, pined-for co-ops on Fifth Avenue, choosiness lives on.
According to a source at 820 Fifth Avenue, the building has turned away real estate developer Jeff T. Blau, the self-made 41-year-old president of the Related Companies. He had been willing to pay about $31 million, more than anyone's spent on a piece of New York real estate this year, for the home builder Ara Hovnanian's fourth-floor apartment, Tommy Hilfger's old place.
But Mr. Blau and his wife, Lisa, never got to sit for an interview with the building's board, which sent a message that "it would not be appropriate to go forward with the application," the source said. It's not clear why the handsome couple wasn't welcome, but 820 Fifth Avenue, where billionaires like Ron Perelman, Steve Wynn and the oil heir Fred Koch have been spurned, is famous for its near-Victorian pickiness.
It's also eminently unyielding. That source said Mayor Michael Bloomberg placed a call to 89-year-old Jayne Wrightsman, the building's feared, persnickety gatekeeper, who lives one floor below the Hovnanian family. Did Mr. Bloomberg point out that Mr. Blau is the honoree at this November's Real Estate Council Benefit at the Metropolitan Museum, where Ms. Wrightsman is an emeritus trustee? Did he mention that the fund-raising event's best tables cost $50,000?
Whatever the richest man in New York said, it didn't work. The conversation with Ms. Wrightsman, who is widely considered to be the co-op's chieftain even though she's not technically on its board, did not reverse Mr. Blau's fate. "Nothing changed after the call," the source said.
"From time to time, the mayor does write letters or make calls on people's behalf," said mayoral spokesperson Stu Loeser. "He signed a reference for me when I applied to my co-op board." Mr. Loeser would not confirm or comment on the 820 Fifth conversation. "Thank you for asking, but no thank you."
It's not clear how Mr. Bloomberg knows Mr. Blau, though former deputy mayor and current Bloomberg L.P. president Dan Doctoroff is an old friend of Stephen M. Ross, Related's chairman. Critics have complained about the ties between the city and Related, which won a billion-dollar deal with the M.T.A. to develop the gargantuan, long-dormant West Side rail yards.
"You can write whatever you want," Mr. Blau said on Monday from the waterside Bridgehampton house he bought for $7.625 million. "I've got to run." The Queens native, born to a plumbing contractor, was 20 years old when Mr. Ross offered him an internship at Related, where he's now his heir apparent.
Mr. Blau and his wife, a Harvard Business School graduate who co-founded the fitness-based email newsletter Vital Juice Daily, seem like they'd be entirely pleasant neighbors. They passed the board a few doors down at 1040 Fifth Avenue, spending $21 million only a year ago on a 4,700-square-foot, 11-room, four-bedroom apartment below the penthouse that once belonged to Jacqueline Onassis, a close friend of Ms. Wrightsman's.
Still, there's a difference between getting into 1040 Fifth, where a duplex was just cut from $43 million to $32 million, and getting into the 93-year-old 820 Fifth Avenue, where the one-per-floor apartments were built with seven staff rooms each. The place is cosmic: David Hampton, the con man who inspired Six Degrees of Separation, told the police that he lived there; like Mr. Blau, the corporate raider Asher Edelman, an inspiration for Wall Street's Gordon Gekko, was turned away without a formal application.
"I was between marriages, it was in the '80s, and I looked at an apartment at 820 Fifth," Mr. Edelman told The Observer last year. "Mrs. Wrightsman, who I knew, she said, 'You know, I like Asher very, very much, but we just turned down Freddie Koch'—Freddie, you know, very out-there gay, and was very out-there gay in those days; it should make no difference to them, but they are who they are—'we just turned him down, and we told him that to be in this building, you had to be married.'"
BUT THE FOURTH floor has a particularly rough history. After the poet and philanthropist Louise Crane died in 1998, heiress Libbet Johnson wanted to buy the place and its upstairs neighbor, too. Ms. Wrightsman reportedly said something along the lines of "Over my dead body." The fourth floor sold for $10 million to Mr. Hilfiger, who didn't move in. His co-op flipped for $18 million to the widow Lily Safra, whose family didn't move in, either. After her multimillion-dollar renovation, Mr. Hovnanian won the apartment.
This April, after shares of the giant home-building firm Hovnanian Enterprises tumbled, The Observer reported that Mr. Hovnanian's place was quietly being marketed for $36 million by Sotheby's broker Serena Boardman, who wouldn't comment for this article.
Considering the unofficial asking price, it's not clear that a $31 million would be enough. Could the board's decision change if, say, the offer was raised? "You should never say never to anything," the source said, "but I don't see that happening." Ms. Wrightsman could not be reached through the Met or at her apartment.
"Co-ops are going to have to decide if they're going to protect their social standards or their cash flow," the board president of one of the three best buildings on Park Avenue said. "If the apartments don't trade, there's no flip-tax income. If there's no income, you run out of your kitty. And then what do you do?"
"I don't think," the source at 820 Fifth Avenue said, "we're concerned about the financials of the building."
mabelson@observer.com