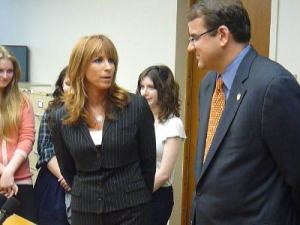 ALBANY—It's a Tuesday lobby day, and State Senator Craig Johnson held a press conference with….a Real Housewife of New York City.
Jill Zarin, along with her daughter Allyson Shapiro appeared alongside Johnson to push for a bill that would ban Styrofoam products in schools.
The three high school students articulately made the case against Styrofoam–and were hoping that Zarin's star power might help the bill's chances. At least one senator was star struck.
"Hi, Jill Zarin," Zarin said as State Senator Tom Duane entered the room.
"I know!" he said. "Thank you for putting in your precious time."