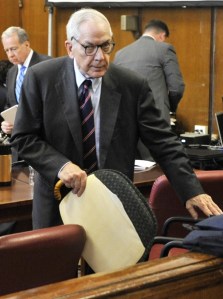 "I'm so bleary, I don't know," Naomi Dunn Packard-Koot, the former social secretary to the late philanthropist Brooke Astor, admitted to Manhattan Assistant District Attorney Elizabeth Loewy, near the end of a marathon day of testimony on Thursday, May 14.
Ms. Packard-Koot is the upteenth witness called thus far in the high-profile trial of Ms. Astor's son, Anthony Marshall, who stands accused of swindling his mother's estate out of millions of dollars.
By the time she was excused around 4:15 p.m., Ms. Packard-Koot had weathered a long direct examination from Ms. Loewy, two grueling cross-examinations from the defense, followed by a re-direct from prosecutors, a re-cross from the defense, then a re-re-direct, and one last re-re-cross examination, for good measure.
And then she got to face the press.
"I really need to pick up my son," she told a gaggle of about 10 reporters, who had scrambled from the courtroom to catch her in the hallway. "That's okay, we can do it while you walk," said one reporter, as the group moved en masse alongside her.
"I want to know why she speaks Hungarian," one national reporter told the Daily Transom before cramming into the packed elevator. (Ms. Packard-Koot had testified that she was arrested in college when she made prank phone calls in Hungarian, which aroused suspicion because it coincided with a "marauding band of gypsies" that was terrorizing Princeton University at the time.)
The press was especially curious about what Ms. Packard-Koot couldn't say in court, namely the phone call in which she overheard the accused Mr. Marshall's wife, Charlene Marshall, speak of her mother-in-law in rather choice words. "It was not out of character," Ms. Packard-Koot said.
Another question was about the son of Philippe de Montebello, who is apparently a Facebook friend of Ms. Packard-Koot, along with Philip Marshall, the estranged son of Anthony Marshall, who helped begin proceedings to wrest his grandmother's control from his dad.
Ms. Packard-Koot said she would like to see justice served, and then passed through the guarded gate on the seventh floor. "What would justice mean in this case?" one reporter hollered, and Ms. Packard-Koot seemed to pause for a moment, before disappearing down the hallway.
Earlier, defense attorneys had seized on Ms. Packard-Koot's long list of jobs, which included writing and public relations (along with being a firefighter and financial analyst) to suggest she was milking the high-profile case for her own benefit.
Fred Hafetz, an attorney for Mr. Marshall, concluded his blistering cross-examination with a parting shot.
"You wish to have an exaggerated importance in this case?" he loudly asked.
"Absolutely not," Ms. Packard-Koot replied. "I find that very offensive," she said, repeating the statement a second time as Mr. Hafetz took his seat.
Thomas Puccio, who represents Mr. Marshall's co-defendant, Francis X. Morrissey, asked if she was planning to write a book about the case.
"People have said, 'Oh, you should write a book," Ms. Packard-Koot testified, but later said, "I've had no concrete or detailed discussions with anyone."
He also questioned why she copied Ms. Astor's phone logs and social calendars onto a disk after she was fired.
"I got fired for no reason at all so I wanted to have my records with me," she told the jury. Ms. Packard-Koot had earlier testified that Mr. Marshall told her she was being let go because Ms. Astor did not like her and because she typed too slowly. According to Ms. Packard-Koot, neither was true.
In the back of the courtroom, a retiree named Gladys, who makes the trip to the courtroom every day just to observe the trial, leaned over and whispered in the Daily Transom's ear. "They would have destroyed me as a witness," she said. "I had over 100 jobs."