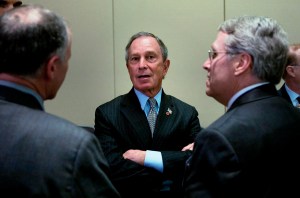 Politics, the saying goes, is just show business for ugly people. And as in show business, the Charlie Parker rule applies: Always leave them wanting more.
This is not what Michael Bloomberg is doing. Faced with a two-term limit on his mayoralty, he could have opted to ride off into the sunset this year, with no-name successor candidates from both parties singing his praises and trying to out-Bloomberg each other, and with pundits and editorialists lamenting that his reign has reached its end.
Instead, he's pressing his luck, strong-arming a term-limits law change through the City Council, showering eager political consultants with obscene paydays, and flooding mailboxes and the airwaves with a torrent of propaganda.
It's going to work: the mayor will almost certainly get his way and win his prized third term this November. The reasons are many—his overwhelming financial advantage, his inroads into the Democratic fund-raising and organizational establishment, and his apparent success in preventing a formidable opponent from emerging.
That's all on top of his actual popularity. A poll released last week gave him an approval rating of 59 percent and a lead of 18 points of Bill Thompson, his likely Democratic foe. Yes, it can be argued that Mr. Bloomberg should actually be doing better, considering how much money he's already gone through, but there's still no reason to believe he's not on pace to tally around 55 percent of the vote this fall.
But November won't really be test for Mr. Bloomberg—what comes in the months and years after November will be. And here he is on shakier ground, because modern political history shows that voters simply end up getting tired of elected executives who stick around too long.
A classic example can be found in New York's last three-term mayor, Ed Koch. Emerging from a bruising four-way Democratic primary in 1977, Mr. Koch quickly won over the city—and even the nation—with his outsize personality: best-selling books, appearances on Saturday Night Live and Johnny Carson's Tonight Show, and two crushing re-election victories in 1981 and 1985 followed.
But as Mr. Koch's third term progressed, his chief political asset—his personality—morphed into his prime liability. Once, voters had been delighted by his outspoken antics, but after ten years they were rolling their eyes. When he threw himself into New York's contentious 1988 Democratic presidential primary, backing long-shot Al Gore (a client of David Garth, Mr. Koch's image-maker) and infamously asserting that Jewish voters would be "crazy" to vote for Jesse Jackson, Mr. Koch's numbers tanked for good. When he made an ill-advised bid for a fourth term in 1989, he lost the Democratic primary to David Dinkins by nearly 10 points.
Politically speaking, Mr. Koch's main crime was overexposure. He failed to recognize that by hogging the limelight on one of the biggest stages in America, his audience would eventually get sick of him.
Others have learned this lesson, too. In Massachusetts, there was Michael Dukakis, who scored nearly 70 percent of the vote when he sought a (non-consecutive) third term in 1986. Three years and one failed presidential bid later, his home state approval rating stood at barely 20 percent and he was forced to swear off running for a fourth term in 1990. Mario Cuomo, a god to Democrats in New York and across the country in the late 1980s and early '90s, won his third term in 1990 in a Dukakis-esque rout. Four years later, voters rejected him in favor of the mayor of Peekskill. (And that mayor, George Pataki, would later learn himself that third terms can be fool's gold.)
Neither Mr. Dukakis nor Mr. Cuomo nor Mr. Pataki changed his style in his third term. What did change was how voters responded to that style. This fickleness is a natural and unavoidable part of the human condition: people eventually get tired of being led by the same person. And because they are singular figures who are in the news virtually every day, governors and some big-city mayors fall victim to this reality far more than members of Congress, who can coast by on their party label and personal anonymity.
Maybe Mr. Bloomberg can do better. Perhaps his third term will coincide with a blossoming economy, or will be met with some sort of crisis that will make him the exalted figure Rudy Giuliani was after 9/11. But he won't be getting the benefit of the doubt from the public any longer. He will have overstayed his welcome, and that's something no amount of money will change.