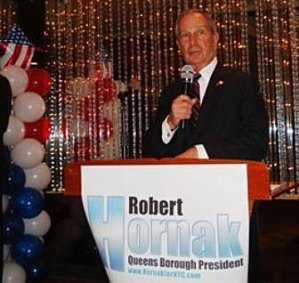 Here's a shot of Michael Bloomberg at a dinner hosted by the Queens Republican County Committee last week.
It's from the Queens Courier, which wrote in a caption that since the Queens G.O.P. endorsed Bloomberg for re-election, he "came to their Gala in Flushing to endorse their candidates for Borough President and City Council.
They would have been the first endorsements Bloomberg has made in the 2009 cycle. It also would have been a noteworthy development because the Republican candidate for Queens borough president, Robert Hornak, is trying to unseat the Democratic incumbent, Helen Marshall, who has been very supportive of Bloomberg.
Bloomberg campaign spokeswoman Jill Hazelbaker emailed to say, "He did not endorse anyone at the event."
A person who attended the event said that Bloomberg spoke about building the party from the grassroots level, but also said that he did not make any endorsements.