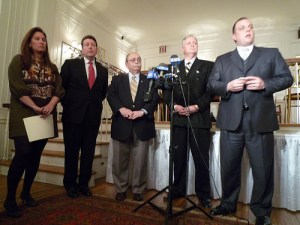 It was supposed to be a contested, secretive meeting and a turning point in Michael Bloomberg's re-election campaign. But by the time the Manhattan County Republican Committee voted last night to endorse the mayor, it was a non-event.
Bloomberg's black SUV arrived at the club's headquarters on 83rd Street shortly after 7 p.m. He hopped out (flanked by a handful of aides) and was greeted by Manhattan Republican chair Jennifer Saul, who kissed him on both cheeks.
Saul had arranged for Bloomberg to speak for about five minutes, and he made no apologies for not endorsing local Republican candidates, telling the Manhattan County Republican Committee, as he has said before, "I am what I am.