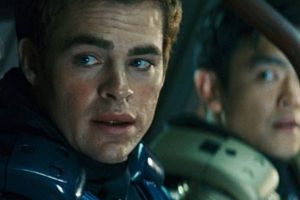 Live long and prosperous! While members of the USS Enterprise might have had their phasers set for stun, Star Trek absolutely killed at the box office this weekend, grossing an estimated $72.5 million over the frame, and $76.5 million total since opening on Thursday night. That number makes it the biggest opening weekend in the history of the franchise, topping the $30.7 million start from Star Trek: First Contact 13 years ago. Last week's No. 1 choice, X-Men Origins: Wolverine, didn't fare nearly as well, crumbling 68 percent to land with a thud in second. As we do each Monday, here's a breakdown of the top five at the box office.
1. Star Trek: $72.5 million ($76.5 million total)
The movies to keep in mind when looking at this opening for Star Trek are Casino Royale and Batman Begins. Both were critically acclaimed reboots of fledgling franchises; both opened strong, but maybe not as strong as everyone expected; and both films saw the opening weekend account for 24 percent of their box office total. If Star Trek follows suit, it could see a final gross upward of $300 million. (We're talking Iron Man levels here, people!) Ironically, Star Trek played almost opposite of what you'd expect from a summer blockbuster: 65 percent of the audience was over 25, meaning that despite a fresh young cast, the kiddies mainly stayed away. However, with only Tom Hanks and the Illuminati hitting screens next weekend, we think the youngsters will start coming out like Tribbles. And since us grown-ups already love it, Star Trek has the look of a leggy hit.
2. X-Men Origins: Wolverine: $27 million ($129.6 million total)
Not good. The 68 percent drop that X-Men Origins: Wolverine experienced this weekend puts it on the same path as other front-loaded non-blockbusters like Cloverfield and Ang Lee's disastrous Hulk; at this rate, it'll be a chore for Wolverine to cross $200 million. Think of it this way: in its second weekend, Watchmen "only" plunged 67 percent.
3. Ghosts of Girlfriends Past: $10.4 million ($30.2 million total)
Sure, the total number is still very small, especially for a Matthew McConaughey rom-com, but there are some hopeful signs. Ghosts of Girlfriends Past only shed 32 percent of its audience this weekend, which means the word of mouth has been solid. Couple that with the fact that the next mainstream romantic comedy, The Proposal, doesn't hit theaters until June 19, and Ghosts of Girlfriends Past could wind up making a respectable amount of cash before all is said and done.
4. Obsessed: $6.6 million ($56.2 million total)
Two questions: 1. Who are the people still seeing this in theaters? 2. Don't they realize it'll be on DVD by July?
5. 17 Again: $4.4 million ($54.1 million total)
The body swap comedy held off the opening of Next Day Air ($4 million/$4 million total) to place fifth, bringing its overall total to $54.1 million. While the numbers aren't huge—17 Again will wind up grossing slightly more than the last body swap comedy, 13 Going on 30, and decidedly less than Hannah Montana: The Movie—the film had the lowest decline in the top 10, easing only 30 percent in its fourth weekend. It appears Zac Efron is ready to graduate into blockbusters.