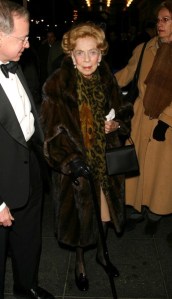 "I do have enough money to buy new frocks, don't I, Terry?" Brooke Astor had once asked her longtime attorney, Henry "Terry" Christensen.
He thought she was joking.
Mr. Christensen, formerly a partner at the law firm Sullivan & Cromwell, which represented the wealthy socialite for half a century, had been Ms. Astor's primary attorney since 1991, facilitating her sometimes whimsical wishes for an estate that seemed to fluctuate between two chief beneficiaries: her son and her favorite charities.
"She liked to talk about her will," noted Mr. Christensen, adding that he'd seen between 30 and 35 different versions of the will dating back to the 1950s.

On Thursday, May 28, Mr. Christensen took the stand for the third consecutive day in the trial of Ms. Astor's son, Anthony Marshall, who stands accused of looting his mother's vast fortune. (Among other things, prosecutors have alleged that Mr. Marshall tricked his frail, Alzhemier's-afflicted mother into believing she was going broke.)
Mr. Christensen occupies the most complicated place so far in the case against Mr. Marshall. In addition to being Ms. Astor's attorney, he also represented Mr. Marshall and his wife, Charlene Marshall, and it was Mr. Christensen who oversaw a 2002 codicil, one of three changes to the will that prosecutors named in their indictment against Mr. Marshall. (Mr. Christensen is not charged with any crimes.)
As the talk shifted from weekend estates and diamond carats to estate planning and detailed codicils, reporters struggled to scribble every detail and spectators struggled to stay awake. (The Daily Transom spotted several people nodding off on Wednesday; on Thursday, one reporter passed the time by crocheting.)
Mr. Christensen testified that he had received notice in December 2000 that Ms. Astor had been diagnosed with second-stage Alzheimer's disease. He told the jury that he had noticed a decline in Ms. Astor, but stated that it was her desire to sell her beloved Childe Hassam painting, which had hung in her library for three decades. (The state alleges that Mr. Marshall sold the $10 million painting against her wishes, in order to collect a hefty $2 million commission.)