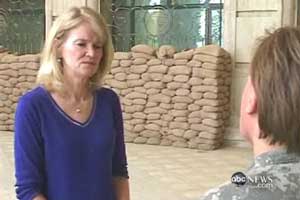 At 9:31 a.m. on the morning of Monday, May 11, Martha Raddatz, the senior foreign affairs correspondent for ABC News, read a jolting message on the network's internal distribution list.
An ABC News producer in Iraq had just posted some breaking news from Baghdad. According to a press release from the U.S. military, five American troops had just been shot and killed inside Camp Liberty. The names of the dead were being withheld. The incident was under investigation. Details were fleeting.
Just a few weeks earlier, on her 20th reporting trip to Iraq, she had spent an afternoon at Camp Liberty in Baghdad, interviewing soldiers for a piece she was still working on about the recent dramatic spike in the number of suicides in the U.S. military.
Reading the post at her home in the Washington, D.C. area on Monday morning, Ms. Raddatz had a hunch. Yet another U.S. soldier might have snapped. She shot back an email to her colleagues. "This is a big deal," she wrote. "Sounds like either a soldier shot fellow soldiers, or a contractor or a local."
In the end, Ms. Raddatz's instincts turned out to be correct.
Some nine hours later, on the evening news shows, CBS's Katie Couric, NBC's Brian Williams and ABC's Charles Gibson all reported that—in the worst case of soldier-on-soldier violence since the start of the war—an unnamed American was now in custody after killing five of his colleagues and wounding three others. The killing spree, they reported, had taken place that afternoon inside a clinic dedicated to treating soldiers with psychological problems.
On Monday evening, CBS illustrated the story with a computer animation of a soldier bursting into a room and blasting away with a handgun. It looked like a video game. On NBC, Brian Williams fleshed out the story by interviewing a celebrated war veteran about the stress of combat in the studio in New York.
ABC News, on the other hand—in an impressive display of news-gathering—showed actual footage from inside the clinic. As it turns out, during her recent trip to Baghdad, Ms. Raddatz had spent an entire afternoon interviewing the clinic's staff members for her report on how the military was coping with the recent uptick in suicides.
"It was just days ago that Lieutenant Colonel Beth Salisbury showed ABC News the very same combat stress control center where today's horrific shooting took place," Ms. Raddatz reported on Monday evening. "Salisbury, who runs the center, was not hurt in today's shooting. But of the dead, two were on her clinical staff, and three were soldiers waiting for treatment."
Ms. Raddatz went on to break the news that the soldier in custody was on his third deployment. "The sergeant being held for the murders is married and based in Germany," she added. "ABC News has learned he had been having problems during his deployment. Initial indications are that he did not seek mental health treatment voluntarily, but that his unit had referred him for care."
The gripping footage, accompanying her report, showed Ms. Salisbury, dressed in combat fatigues, walking past a concrete barrier into the clinic, past the check-in desk, past the waiting room and down a narrow corridor with fluorescent lights and plywood walls decorated here and there with what looks like the artwork of patients.
"Their weapons are taken for safety," Ms. Salisbury tells the camera. "And we secure those here for the safety of our staff and themselves."
When The Observer caught up with Ms. Raddatz by phone on Tuesday morning, those words seemed to be haunting ABC's veteran war correspondent.
"You look back on these transcripts, and what they were saying at the time—the part about the guns?" said Ms. Raddatz. "To me, that was one of those moments where I was like, oh my gosh. This is the only place on the base where they wouldn't have weapons. Where they wouldn't be able to defend themselves."
One eerie aspect of war reporting is that if you do it long enough, sooner or later the violence of battle is likely to catch up with some of your past subjects. Such has been the case for Ms. Raddatz recently. "When I left Kabul last time, I had interviewed the head of training for the Afghan army," said Ms. Raddatz. "I interviewed him in his office at the base in Kabul. The next day there was a suicide bombing there. It blew out all the windows in that room and the paintings on the walls."
On Tuesday afternoon, while continuing to report out the developments in Baghdad, Ms. Raddatz learned that one of the soldiers captured by ABC's footage inside the clinic (footage which had not yet aired)—a naval commander with a Ph.D. in social work—was one of the victims killed in the shooting.
Ms. Raddatz found herself looking at a January 2009 entry on his classmates.com profile. "I have begun another deployment this time to Iraq where I will work in a combat stress center," he apparently wrote. "Our son returned from Iraq in October. … Our son-in-law is in Iraq expecting to return late Feb early March."
"I imagine he treated the guy," said Ms. Raddatz. "And the guy probably stormed right back into that very office."
Then she excused herself. She needed to finish her follow-up story for World News that night.
fgillette@observer.com