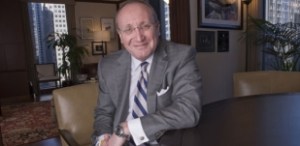 That rumor about a rival acquiring Cushman & Wakefield? Forget it, says chief executive Bruce Mosler. In an interview on Friday at Cushman's West 52nd Street headquarters, he dismissed the rumors out of hand. More than that, surrounded by models of battleships and photographs of himself with fish he conquered off the East Coast, Mr. Mosler added that if there's any acquiring to be done, his firm would be doing it.
"There never has been an interest by our partners, the Agnelli family," Mr. Mosler said, referring to the Italian clan that has a majority stake in Cushman through its holding company, Exor. "And, more particularly, Exor, our partner, from the beginning said that this was a long-term hold. If you look at their historical investment-hold period, they have been builders of brands, whether it's Ferrari, Maserati, Alfa Romeo, Juventus, their football team—they say football, I say soccer—they are builders of brands."
Mr. Mosler then took his professional compatriots to mild task:
"One of the things I'm not as proud of about our industry—and I am so proud of the generosity of the real estate industry; when you look at the number of charitable organizations, and it's one of the things that defines Cushman & Wakefield, is our commitment to our charities … This industry does so many great things. What we don't do as well as others, perhaps, is our focus on the rumor mill. Cushman & Wakefield never has been in the market, won't be in the market.
"If there's any acquiring to be done, we're privately held, we're well-capitalized—we'll do the acquiring or we'll do the merging."
The rumors had grown in recent weeks to such intensity that on May 5, Mr. Mosler and Carlo Sant'Albano of Exor emailed an internal memo putting the kibosh on all of it:
We assure you that any rumor of this nature is completely false and under normal circumstances would not justify a response. However, because of the pervasive nature of the rumors and the wide speculation, we felt it important to set the record straight and to share with our employees the facts about our business and the outlook for Cushman & Wakefield. Cushman & Wakefield has not initiated or participated in any merger or acquisition discussions nor are there plans to enter into such discussions.
More from the Mosler interview in the June 10 print edition of The Observer.
tacitelli@observer.com