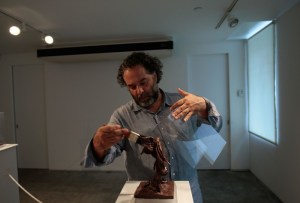 It's been eight months since the collapse of the global financial system sent tiptop New York real estate diving into a deep freeze, and around eight weeks since bright-eyed uptown brokers began wondering aloud about a thaw.
But even as the city's annual summertime hibernation creeps closer, there are barely any signs the gloom will relent. In the past week alone, a baseball slugger, a mortgage-backed-securities whiz and a Williamsburg artist with dormant dreams of development have made million-dollar price cuts.
As for the artist, Cosimo Cavallaro, his 15,000-square-foot apartment/gallery at 20 South Fourth Street was asking $12.8 million when it came on the market a year ago. (Mr. Cavallaro, a filmmaker and sculptor, has hung a 6-foot chocolate Jesus in a Chelsea gallery and covered the model Twiggy in cheese, work that expresses the struggle, he says, between "the warm security of the womb and the chill uncertainty of the world.")
By November, when things were already so sluggish that the broker who had set the New York City co-op record twice earlier in the year, Leighton Candler, was asking when brokers would be given shotguns, Mr. Cavallaro's price came down to $9.85 million. That became $7.95 million in January, $6.75 million in February and $5.95 million last week. "I feel that it's a good price, I think it's a low price, actually. It's a good price and it's a low price," the artist's wife, Sarah, said this week.
According to their listing, the brick building has a two-car garage, two floors now used as gallery space, a third that's a four-bedroom residential sprawl and a private garden. There are thousands of square feet of air rights, too: In 2004, Mr. Cavallaro told The Times that he wanted to build a 11-story luxury glass tower called the Punctilio. "He was going to do that, but then he decided not to, because he's not a developer," his wife said this week. "I thought it was great."
But real luxury glass towers are having troubles, too. Bobby Abreu, the All-Star ex-Yankee who now plays for the Angels, just cut the price of his 4.5-room condo at One Beacon Court from $7.9 to $6.9 million. Couldn't the price be lower, considering that he paid only $3.8 million four years ago? "A million dollars is a large amount of money," listing broker Jeffrey Silverstein said.
Gargantuan price cuts haven't helped elsewhere. Ramesh Singh, once the global head of mortgage-backed securities at UBS, which he left last year, cut the price of his 7,234-square-foot maisonette at 823 Park Avenue last week to $14.5 million, $10 million less than his price in August.
It's also $5.5 million less than what he paid for the 15-room apartment last June. "The market is what the market is right now," listing broker Carrie Chiang said. "It's a huge readjustment."
mabelson@observer.com